After a bit of a scrapbooking hiatus, I finally felt inspired and sat down to make some layouts again two weeks ago. And I have to be honest: I'm really, really happy with the results 🙂
Working with the gorgeous Gather collection by Maggie Holmes/Crate Paper and some bits and pieces from other recent collections made it a lot easier. I really like the soft colours and the patterns in this collection and I have almost used up all of the papers I have of it, so I think that really is a success! While until not too long ago I still had some things in my stash that I used to hoard, waiting for the "right" project to come along to use them on, I have finally overcome this thinking and just use what I have and love!
But I don't want to talk too much since this post will be quite picture-heavy. So without further ado, here are (some of) the projects that I made recently. I would love to hear how you like them!
(I've also divided it up into several posts because there are just too many to share in one go – so I call this one the "vacation edition" 🙂 and looking at all of these summer-y layouts, makes me really wish it was warmer outside!)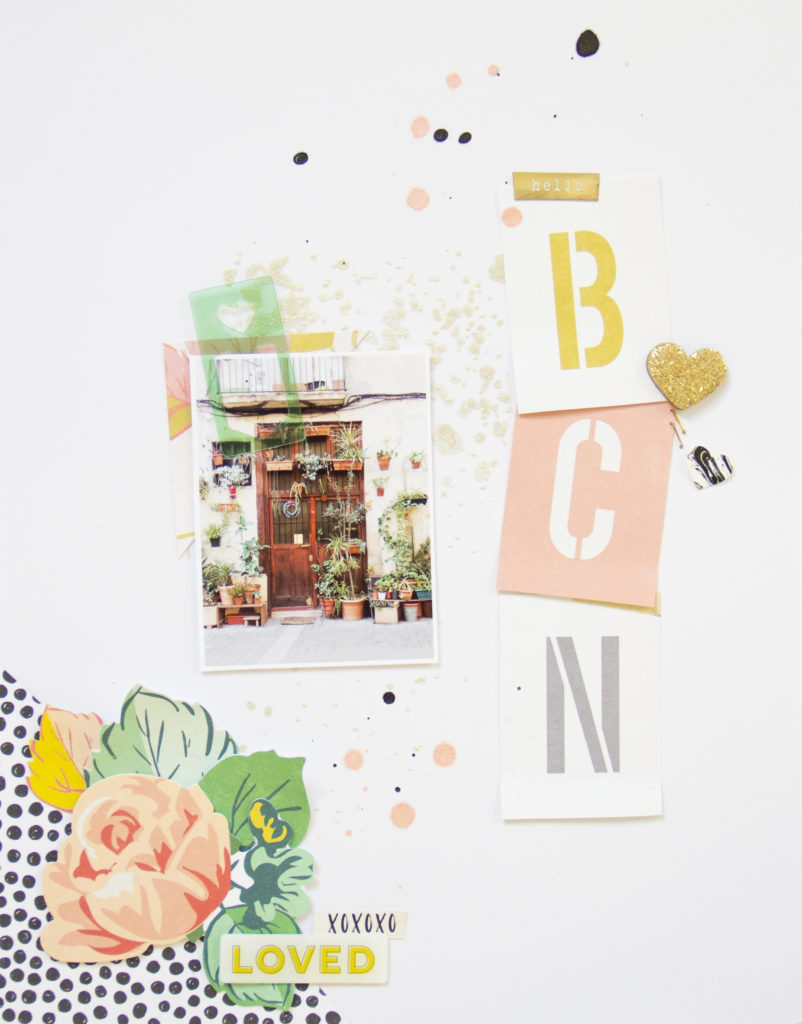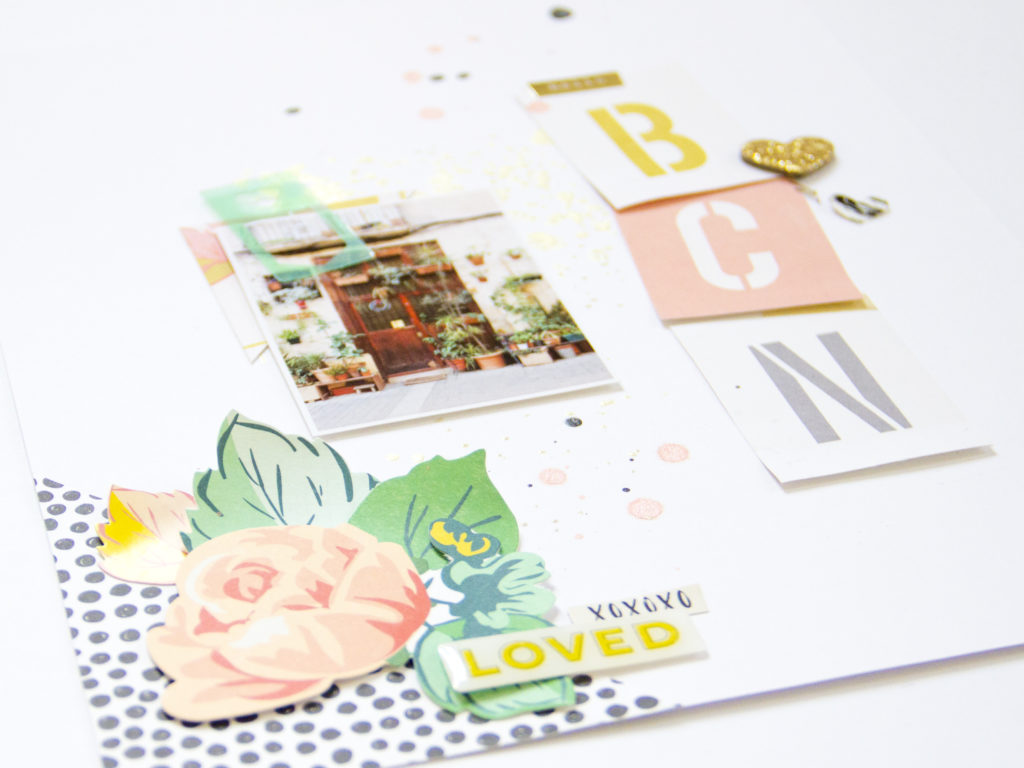 Of course this first layout is one of my favourites – it includes a photo of one of my absolute favourite corners in my favourite city in the whole wide world + lots of white space + florals + black and white patterned paper + gold details. Not sure how I could now love that 😀 For the title I just cut up this patterned paper from the Gather collection by Maggie Holmes/Crate Paper <3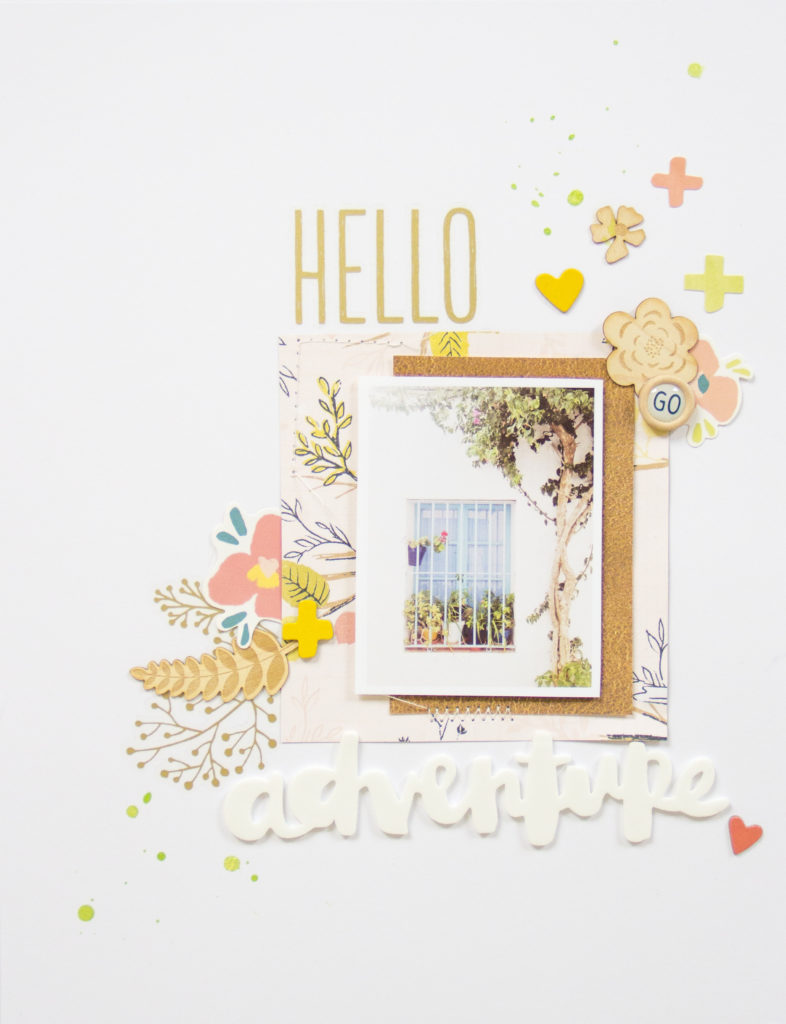 This second layout is a perfect example (in my opinion) for how mixing and matching different collections (even from different brands) can work out perfectly! The papers are from the Gather collection, the wood veneer pieces from the Gossamer Blue October kits, the white thickers word from American Crafts/Amy Tangerine's "Oh Happy Life", the floral and chipboard stickers from Dear Lizzy's "Saturday" and the golden rub-ons from the Pebbles/Jen Hadfield's "Warm & Cozy" collection. Each collection taken on its own has a very different look and feel to it than the others, but single bits of them combined can work together beautifully!
The next two layouts are also an example of mixing and matching collections (actually the same ones as I've just mentioned + Shimelle's "Go Now Go"):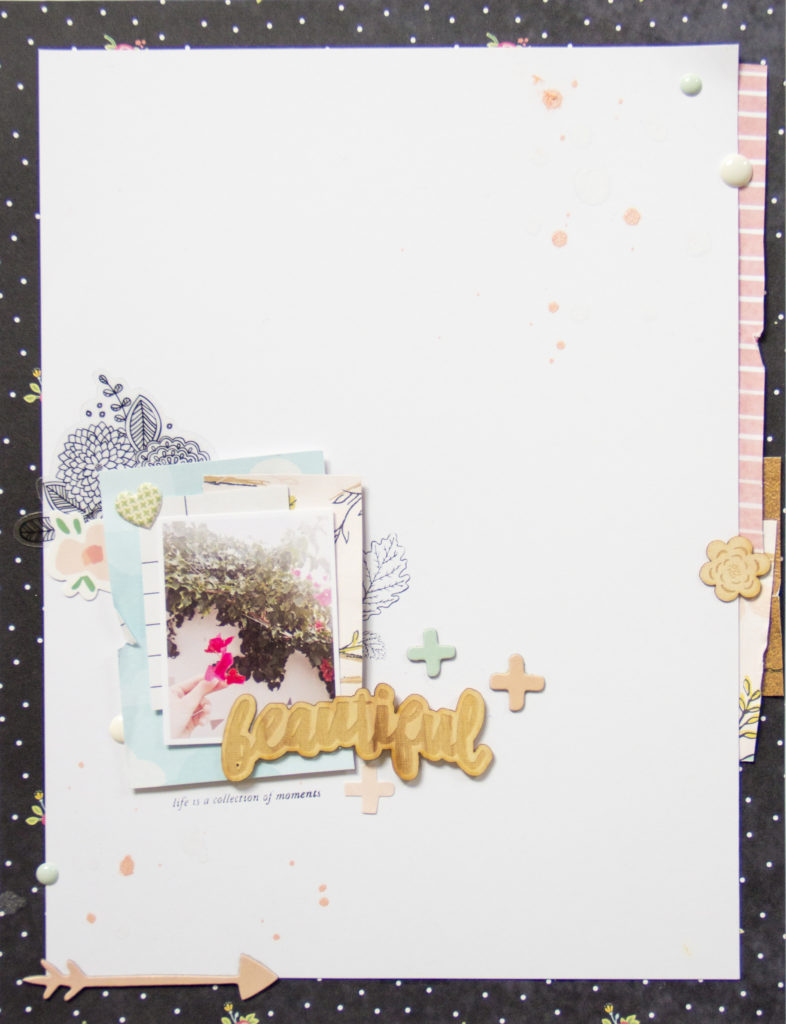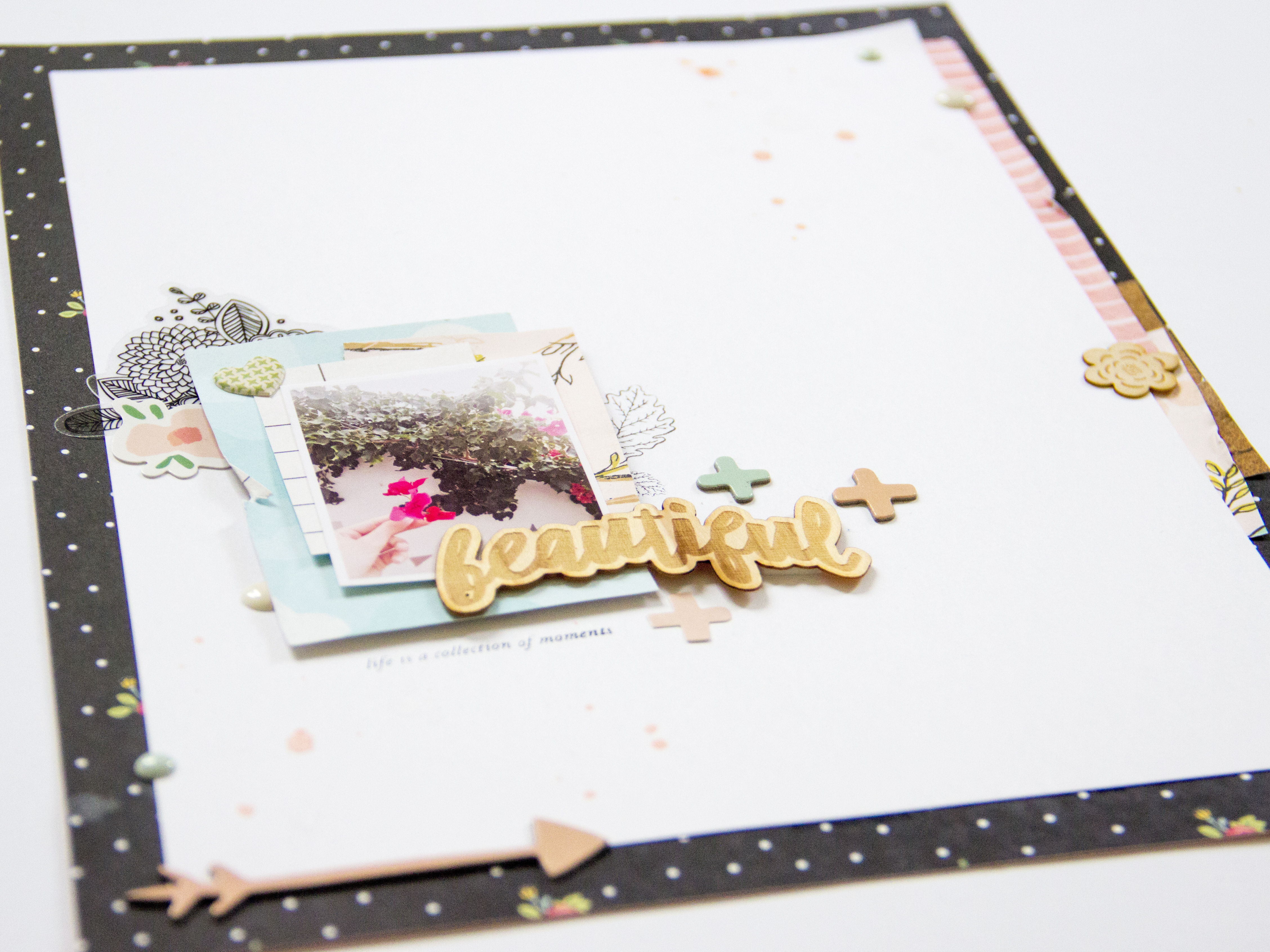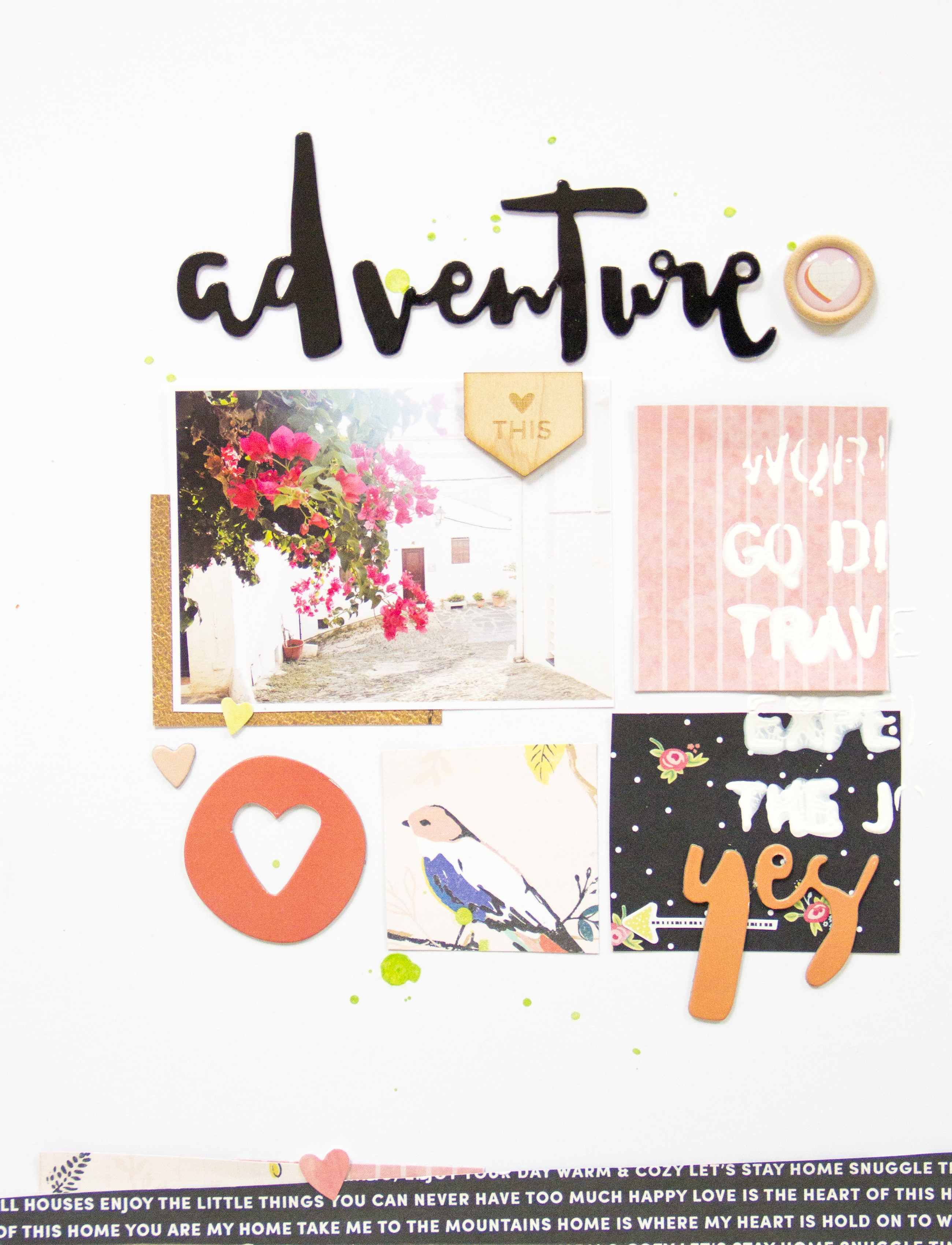 On the first and last layout I also tried to incorporate some mixed media elements (okay, just one – gesso) and I'm really liking the look of it. I really want to do more of that on my future projects!
Alright, that's it for today! I hope you like the layouts and maybe feel inspired to mix and match some of the collections in your stash!
Have a nice weekend! 🙂
Merken