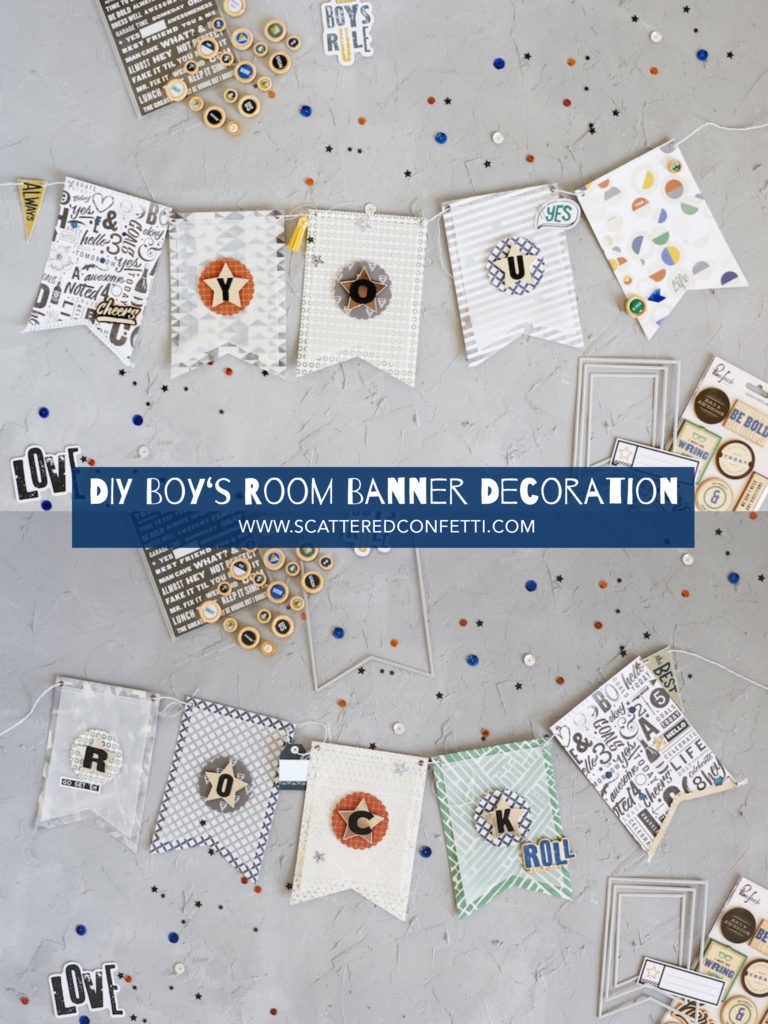 Hey there lovelies! Today I have a very fun project for you! Scrapbook.com was kind enough to send me two of their new sets from their nested dies collection that work with most die cutting machines (I used my Sizzix BigShot). I chose the nested flag banners and the nested triangle set because as soon as I saw them, I already had so many project ideas in mind! There's just so much you can do with them. Today I want to show you one way you can use the nested flag banners dies.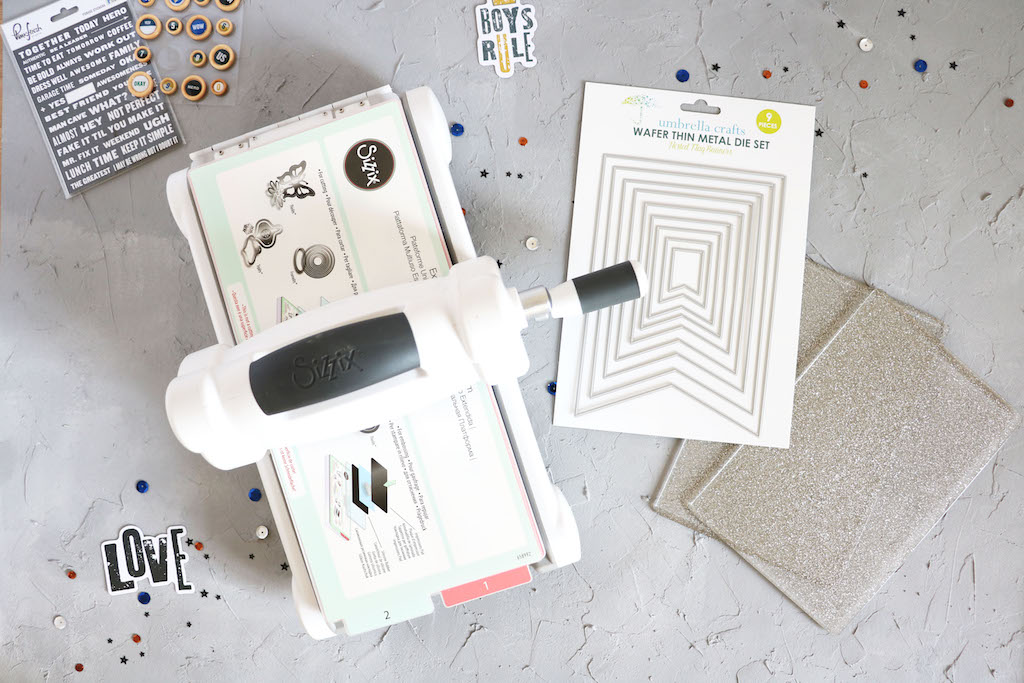 (Do you see those beautiful sparkly cutting dies?! I knew I had to have them for my Sizzix BigShot as soon as I saw them. And I may or may not have already ordered the ones with the gold glitter as well…)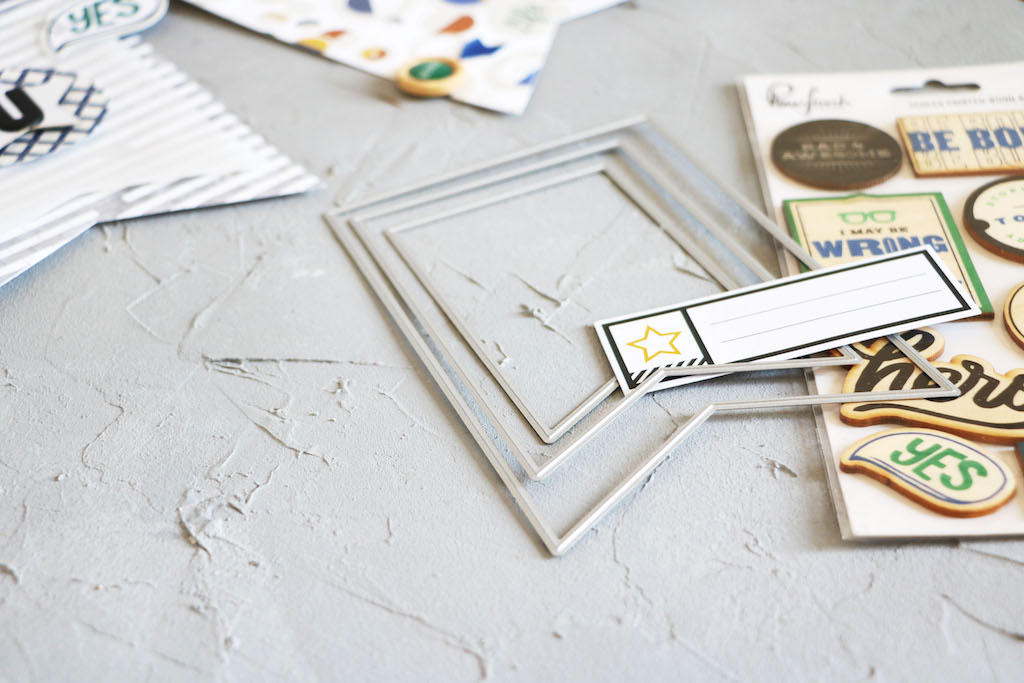 Of course the first thing I wanted to create was a banner – I mean, it's in the name 😀 And to shake things up a little bit, I chose a very different colour scheme and theme from what I normally use. I wanted to create a banner that would be perfect as home decoration for a boy's room, and what better collection to use than Pinkfresh Studio's new "Boys Fort"? The 6×6″ paper pack was perfect for the third biggest banner die which I used to create the "base" of my banner (it measures approx. 4.2″x6″). I then used vellum that I cut with the fourth biggest die (approx. 3.5″x5.2″) and layered those vellum banners on top of my cardstock base. The vellum is perfect to a) create some more dimension and b) to mute the colours of the cardstock a little bit.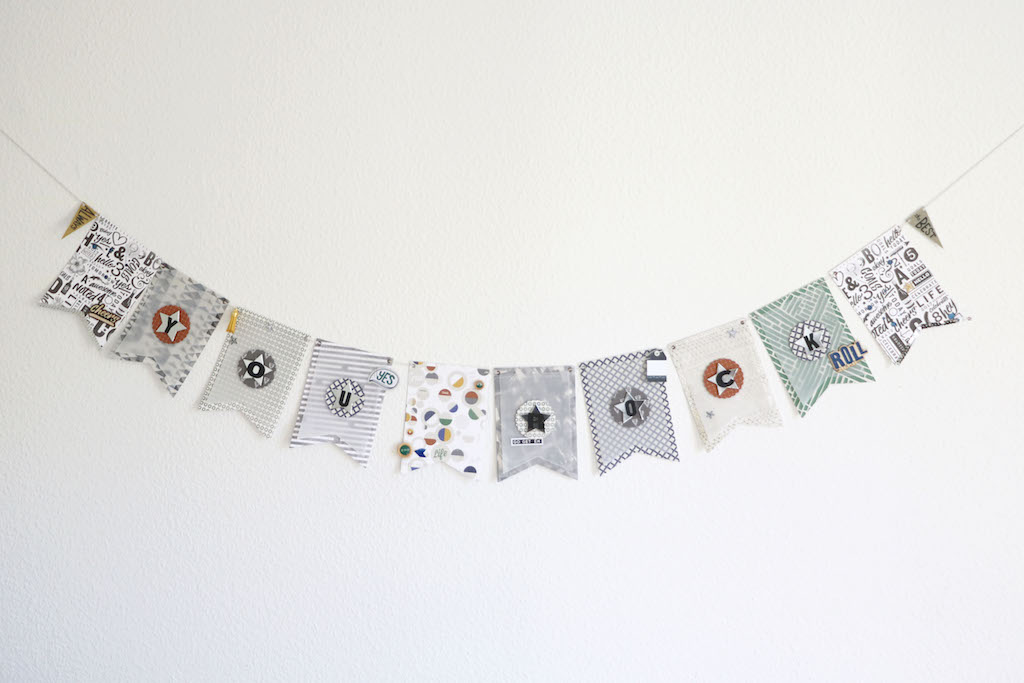 I adhered the vellum banners by stitching them down on the top only so that they would still lift off from the base. I then cut out the scalloped circles from the same paper pack, layered the silver stars I cut from some mirrored cardstock on top of them and adhered my alpha stickers. I love the font of the alpha stickers, especially the different weights for some of the letters, but they are originally grey which means they wouldn't really stand out from the silver stars beneath. So I decided to paint them with some black acrylic paint and I think they turned out pretty good 🙂
Using acrylic paint is the perfect way to change the colour of your cardstock alpha stickers when you need (you could also use nail polish).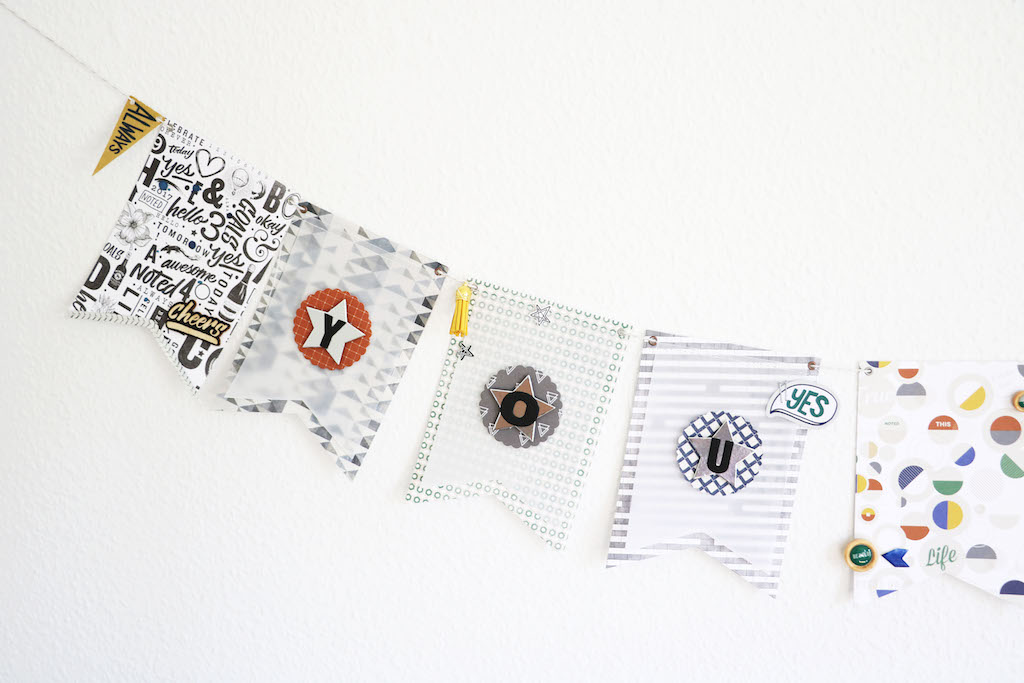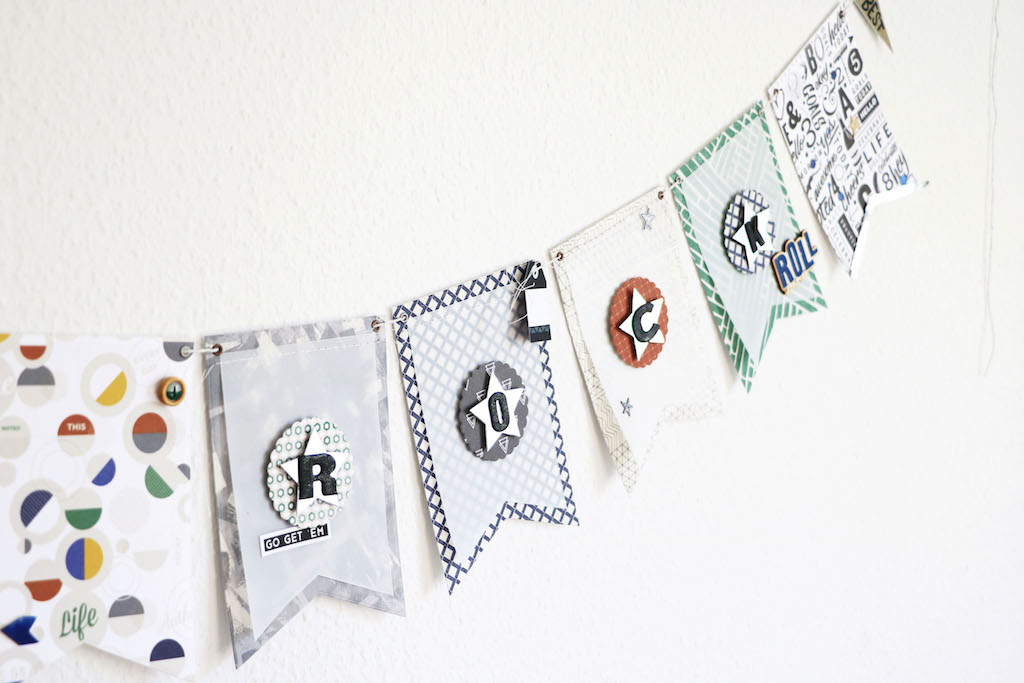 I also used my Wink of Stella clear glitter brush on the letters to add some more detail (and to be honest, a project without some shine or sparkle isn't going to happen for me, haha). It's hard to see in the photos, but in the one below it's a bit more visible. To create some more dimension, I also used foam squares to adhere the scalloped circles and the stars.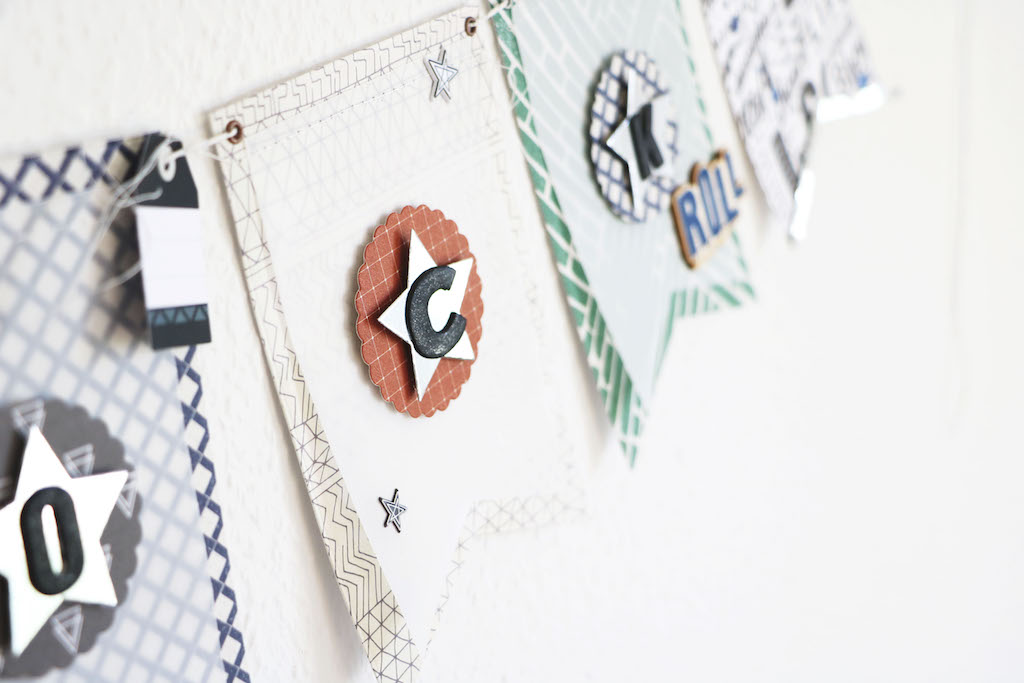 You could easily just punch holes in your banners and string them on some twine as is, but I wanted to add some more detail to them and make them more durable to avoid that the holes would tear when you move them around on the string too often. Therefore I used my Crop-A-Dile (seriously, how could I live without it for so long?!) and some small eyelets in silver and copper and then strung the banners onto some white + silver baker's twine. The metallic touches in chrome and (brushed) copper are perfect for the masculine theme. I normally use A LOT of gold in my projects, so it was nice to have something different for a change 😉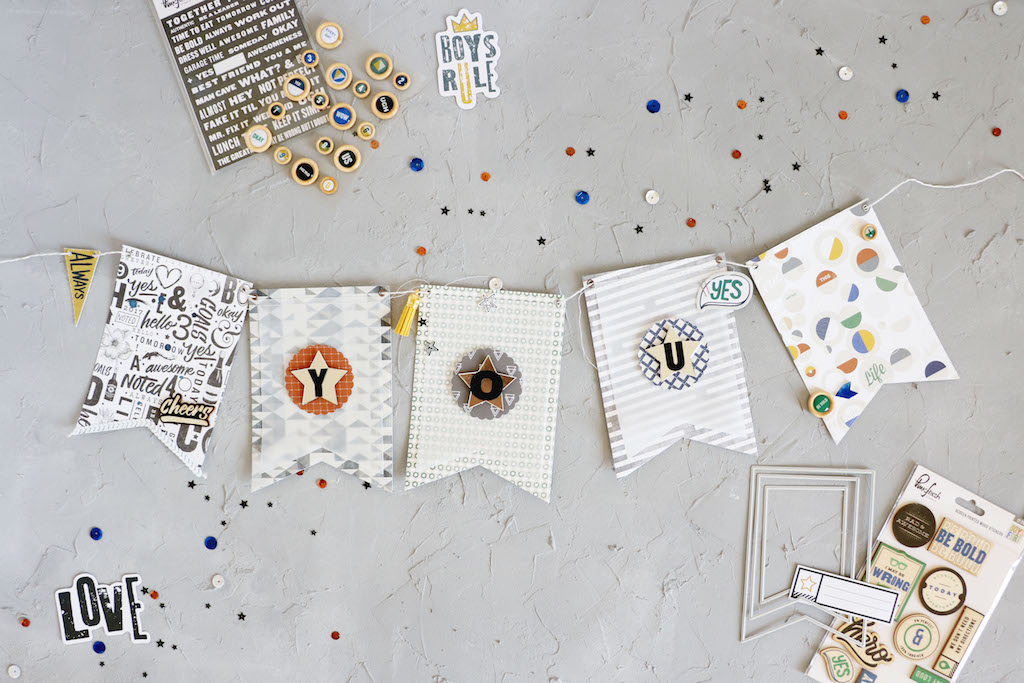 I also used bits from the Boys Fort ephemera pack, the wood buttons, the phrase stickers and the wood stickers to embellish my banner a little bit. Oh, and those fabric pennants just begged to be added to this banner! It was just meant to be 😉
You can get a closer look at the banner in the next photos: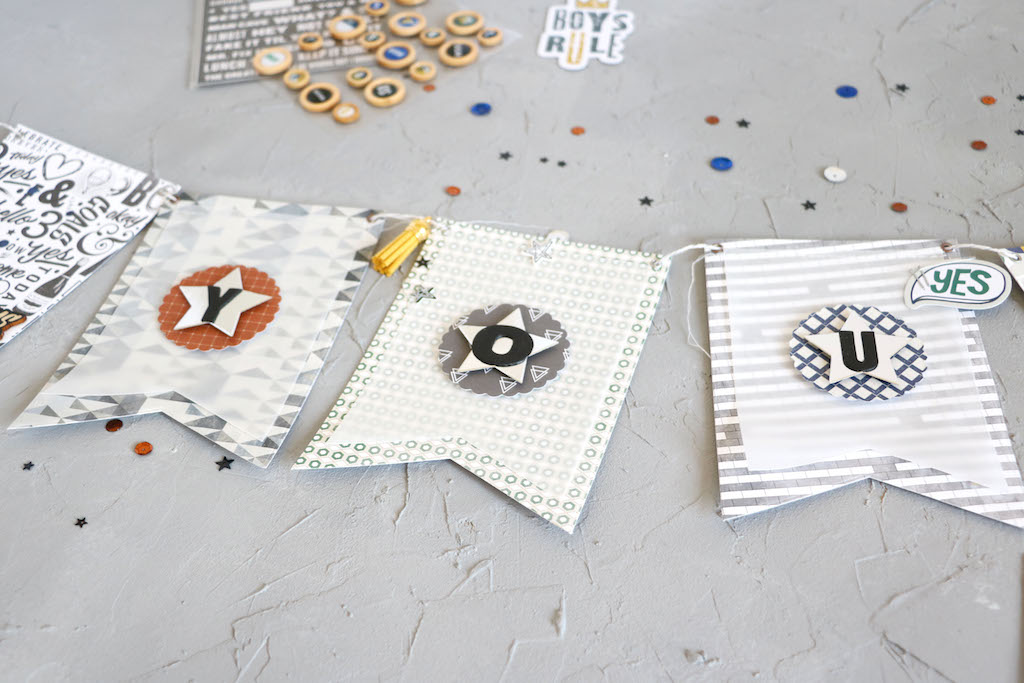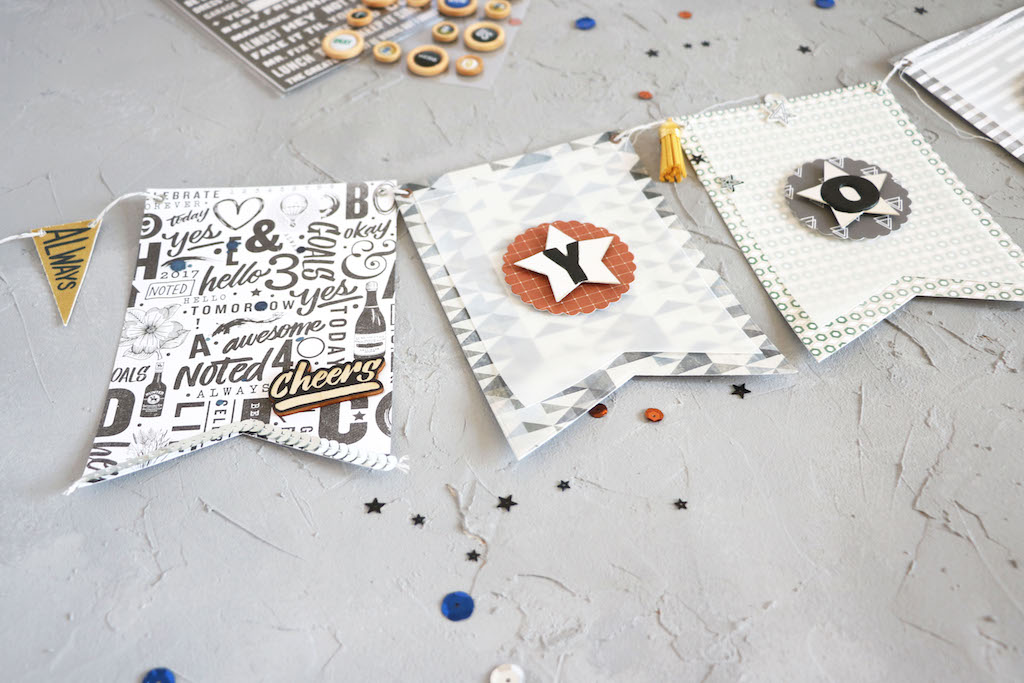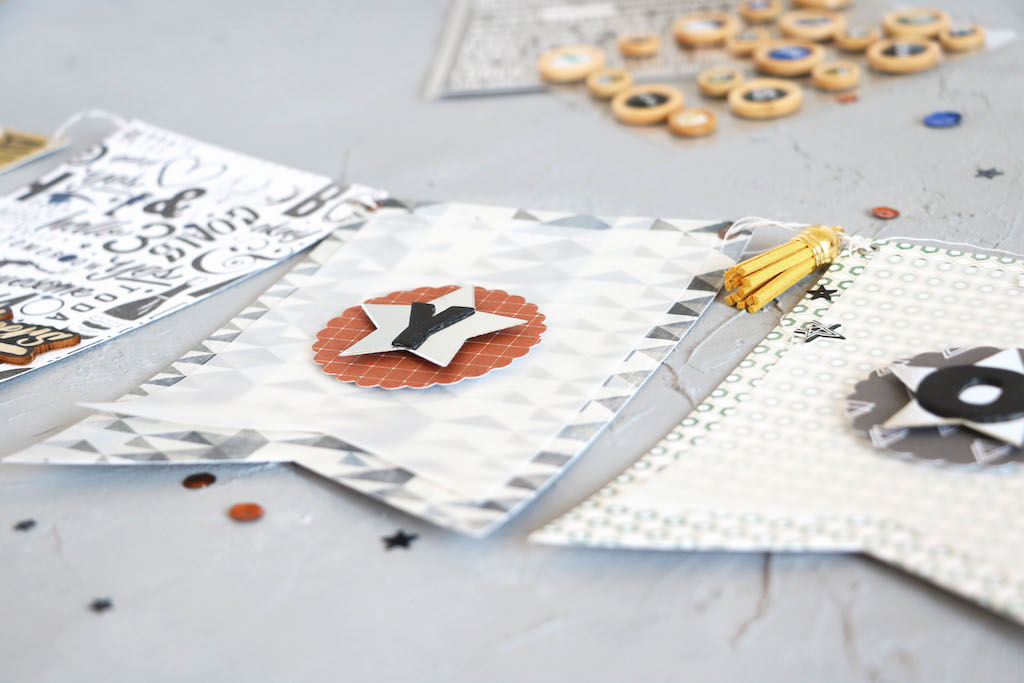 And here are some more detail shots for you: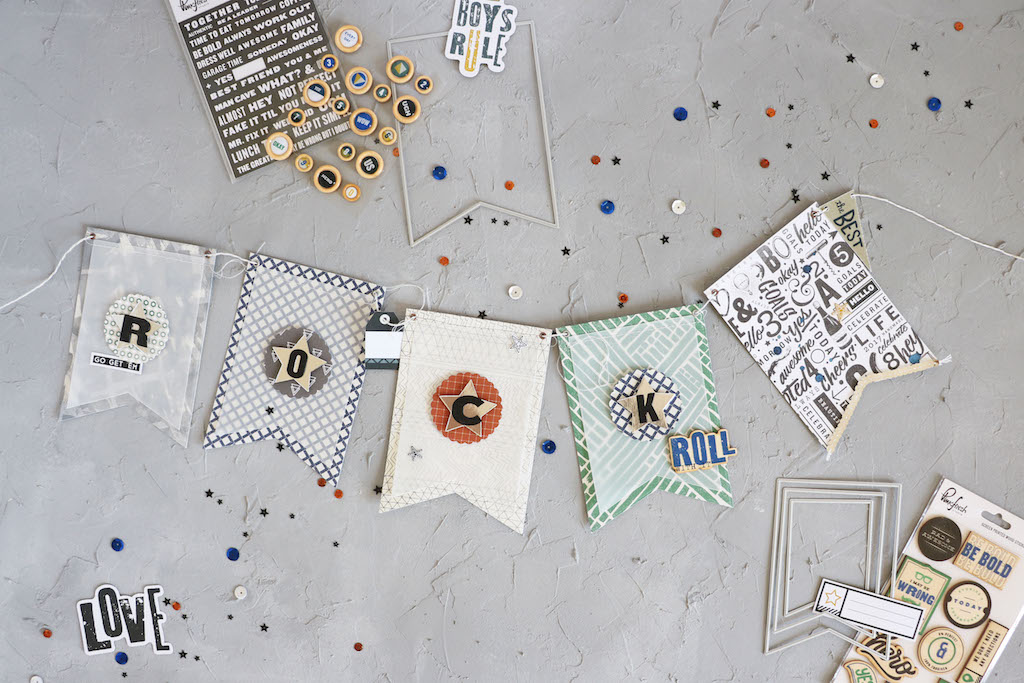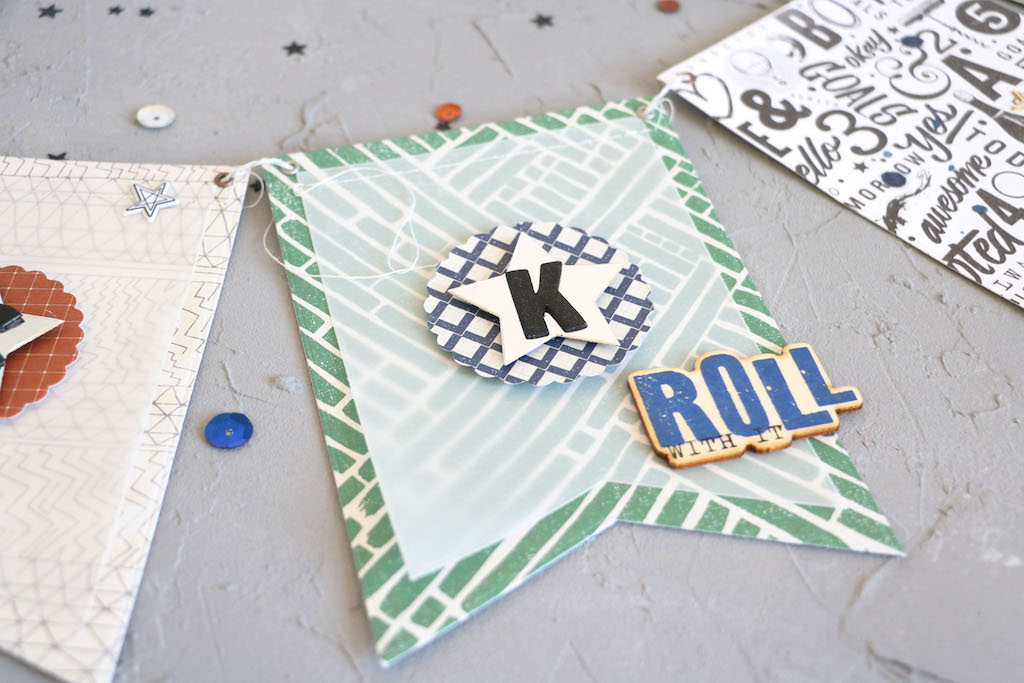 I had a lot of fun creating this project with those dies and the Pinkfresh Studio "Boys Fort" collection – it was something very different for me! Hope you enjoyed it 🙂 Would love it if you let me know in the comments what you think of it!
Oh, and there might be another project coming to the blog soon with the other die set I chose (the nested triangle set) which will be the perfect counterpiece. So for all the fans of girly colours, stay tuned 😉
---
* My blog content may contain affiliate links for products I use and love. Compensated affiliate links present no additional cost to you.  If you buy sth. trough my affiliate link, I'll earn some coffee money which will help keep me going and create more projects for you 🙂 Thank you for your support!
In cooperation with Scrapbook.com. Words and opinions are my own.
Merken
Merken
Merken
Merken
Merken
Merken
Merken
Merken
Merken
Merken
Merken
Merken
Merken
Merken