—- English text at the end of this blogpost —-
Hallo ihr Lieben! Wie schon vor ein paar Tagen auf Instagram versprochen, zeige ich euch nun die ersten Werke, die ich mit der wunderschönen neuen "Millie & June" Kollektion von Fancy Pants gemacht habe, und die nun bei der Scrapbook Werkstatt erhältlich ist 🙂
Wie ihr vielleicht schon mitbekommen habt, mache ich mittlerweile wirklich gerne Karten – am liebsten gleich mindestens 3-5 mit einer Kollektion bzw. einem Kit, sodass diese dann ein schön zusammenpassendes Set ergeben. So dann auch bei dieser Kollektion, wo es dieses Mal (bisher) vier Karten geworden sind.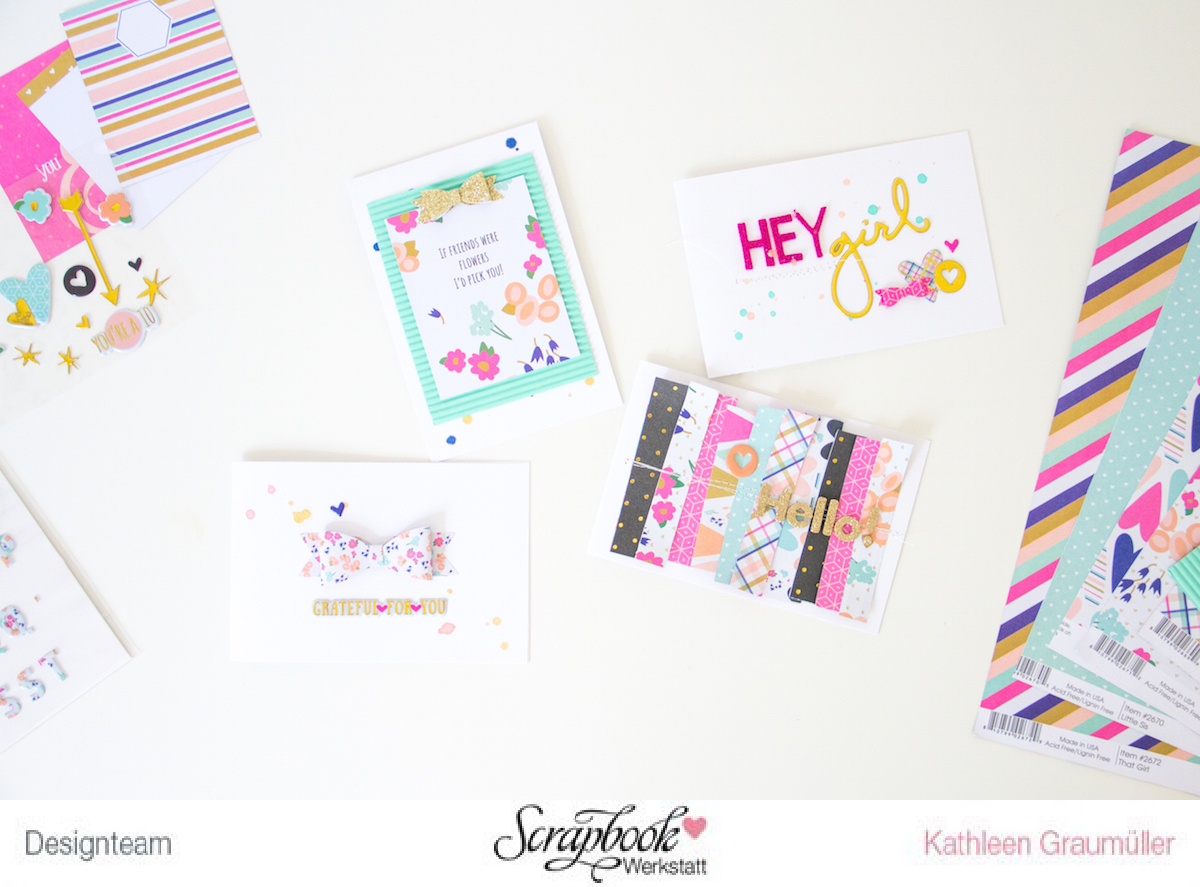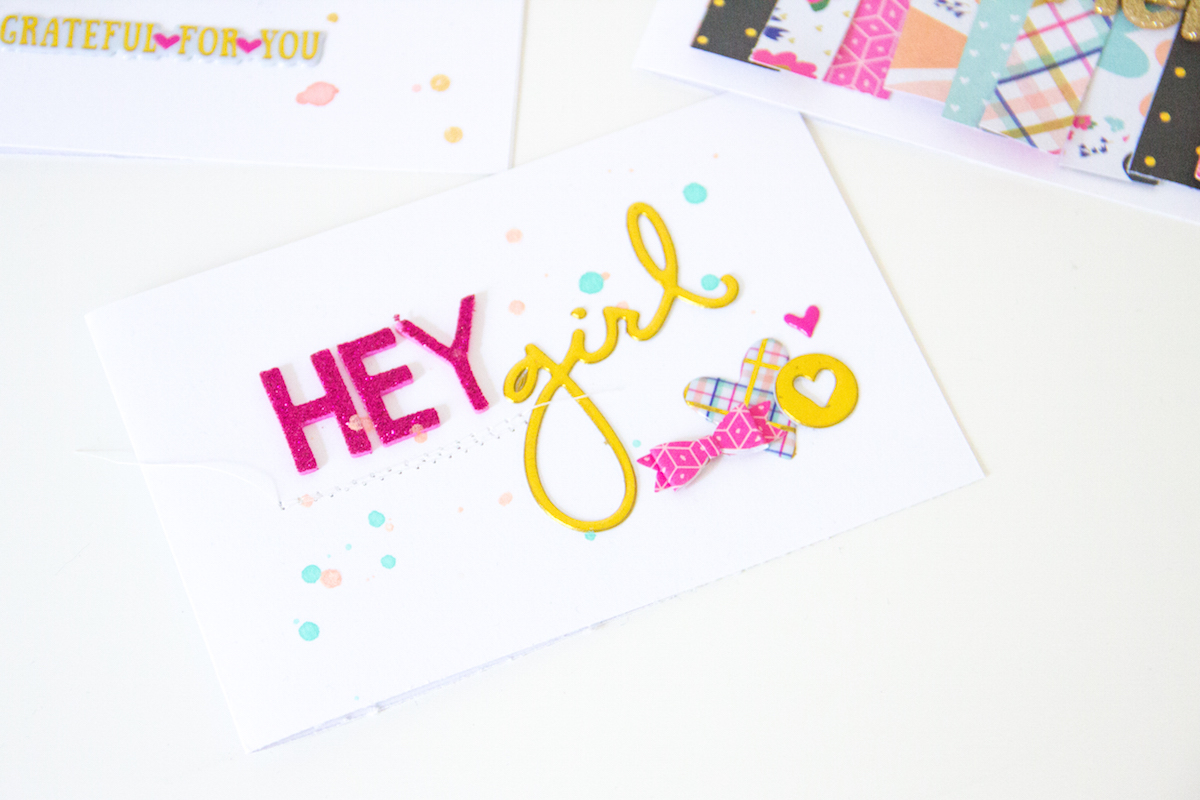 Was ich an dieser Kollektion ganz besonders liebe, sind die Farben! Die Kombi aus mint, gold, apricot und weiß fand ich ja schon immer toll, aber dazu nun noch das kräftige Pink und Dunkelblau, das ist echt mal was anderes. Und ich find's super <3 Sonst findet sich dunkelblau nicht sooo oft auf meinen Projekten (vor allem nicht mit diesen Farben zusammen), sodass das echt mal eine frische Abwechslung war!
Für die Karten habe ich gar nicht viel Material gebraucht. Das Praktische ist, dass im Collection Pack alle 6 gemusterten Papiere je 2x drin sind, plus einen mintfarbenen und einen schwarzen Wellkarton, ein goldenes Papier sowie die geblümten Puffy Alphas und die Puffy Sticker. Die Papiere und Sticker kann man zwar auch alle einzeln kaufen, aber so hat man einfach direkt alles zusammen (und dazu noch die drei Spezialpapiere) und das Preis-Leistungs-Verhältnis ist top! Ich habe mir sonst nur noch das Paper Bow Set dazu gekauft (wobei ich auch schon um die Buttons, das Herzchen-Washi und das Ephemera-Pack rumschleiche 😀 ) und finde, dass es das beste Teil aus der gesamten Kollektion ist!! Merkt man vielleicht auch, wenn man sich meine Karten anschaut: auf 3 von 4 findet ihr die wunderschönen Schleifchen (und auf den Layouts, die ich euch demnächst noch zeige, ebenso). In dem Paper Bow Set sind fünf verschiedene Bögen mit vorgestanzten Schleifenteilen drin. Pro Bogen kann man 6 Schleifen (also insg. 30) in drei verschiedenen Größen machen und es geht superschnell und einfach! Man braucht keinen Schneideplotter oder Stanzmaschine dafür; einfach die Teile raustrennen und zusammenkleben: fertig. Wenn man will, kann man auch verschiedene Farben bzw. Muster mischen – das werde ich auf jeden Fall auch noch ausprobieren 🙂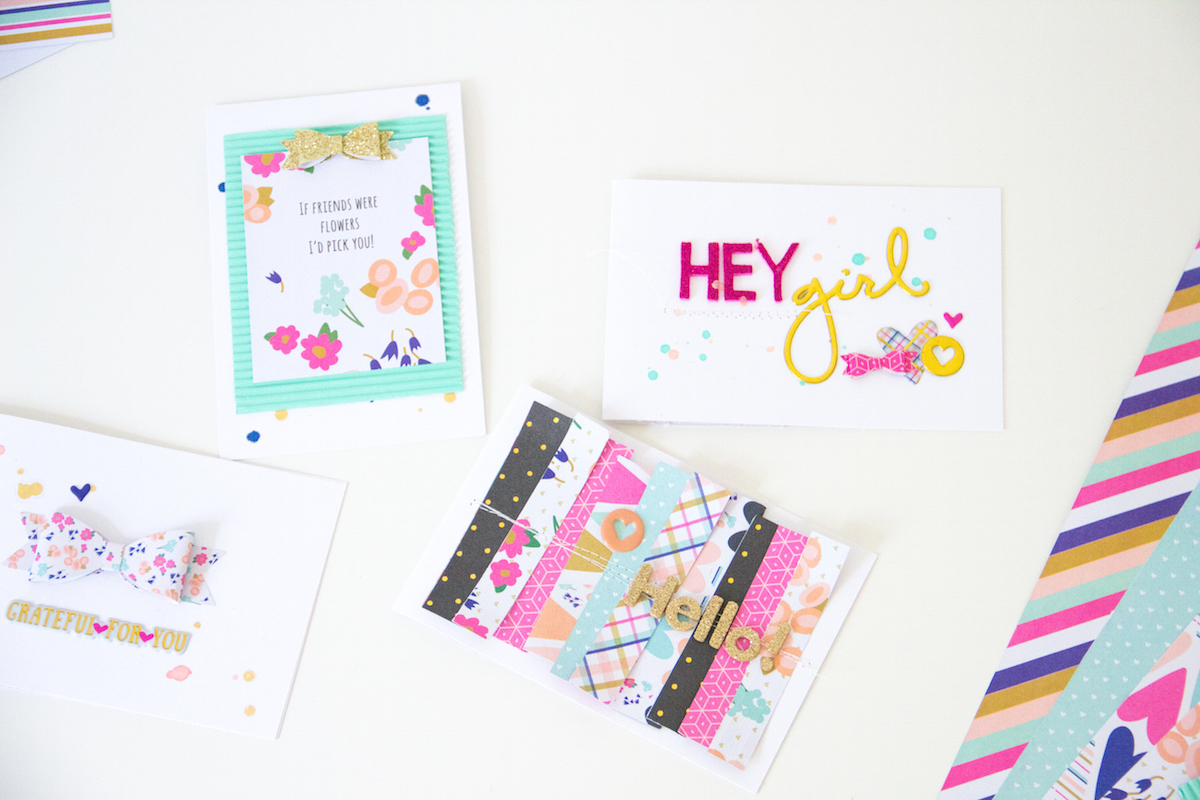 Die drei verschiedenen Schleifengrößen könnt ihr hier gut erkennen: von links nach rechts sind beginnend mit der größten alle drei Größen vertreten. Ich find' sie ja einfach zauberhaft! Was meint ihr? ..ich hoffe wirklich, dass es das noch für viel mehr Kollektionen geben wird!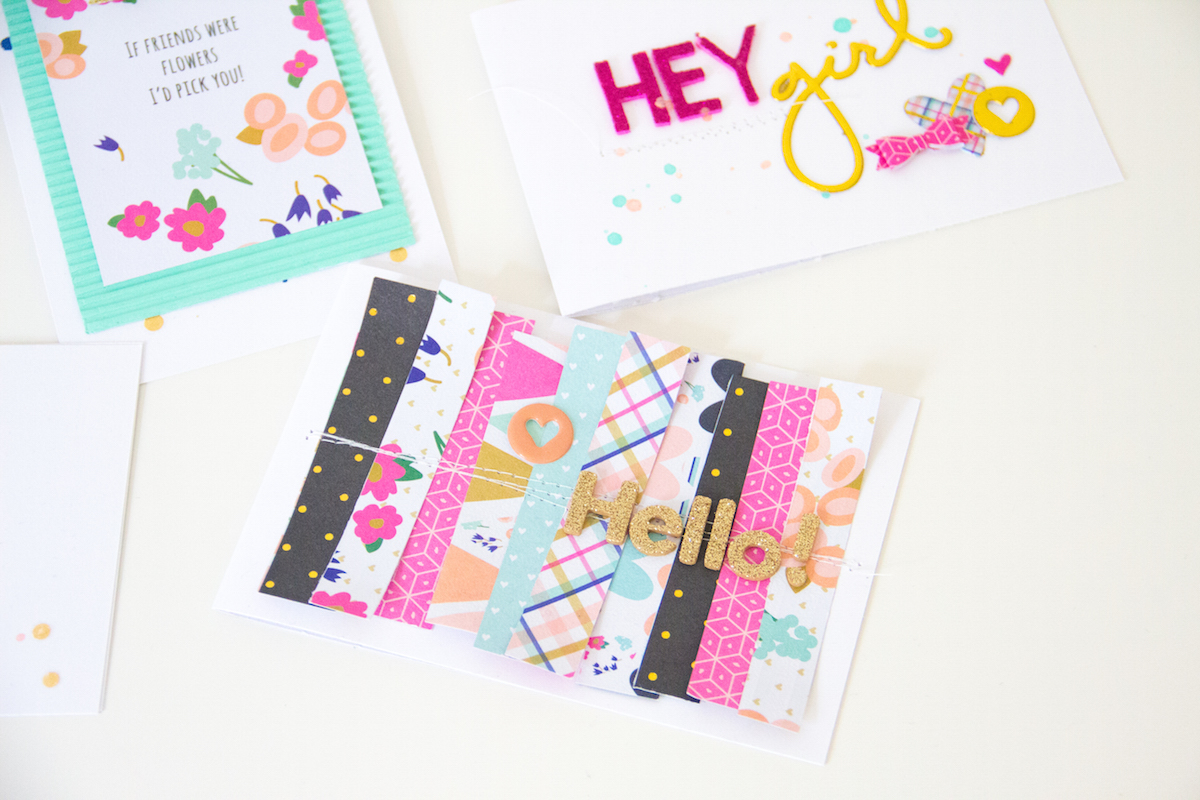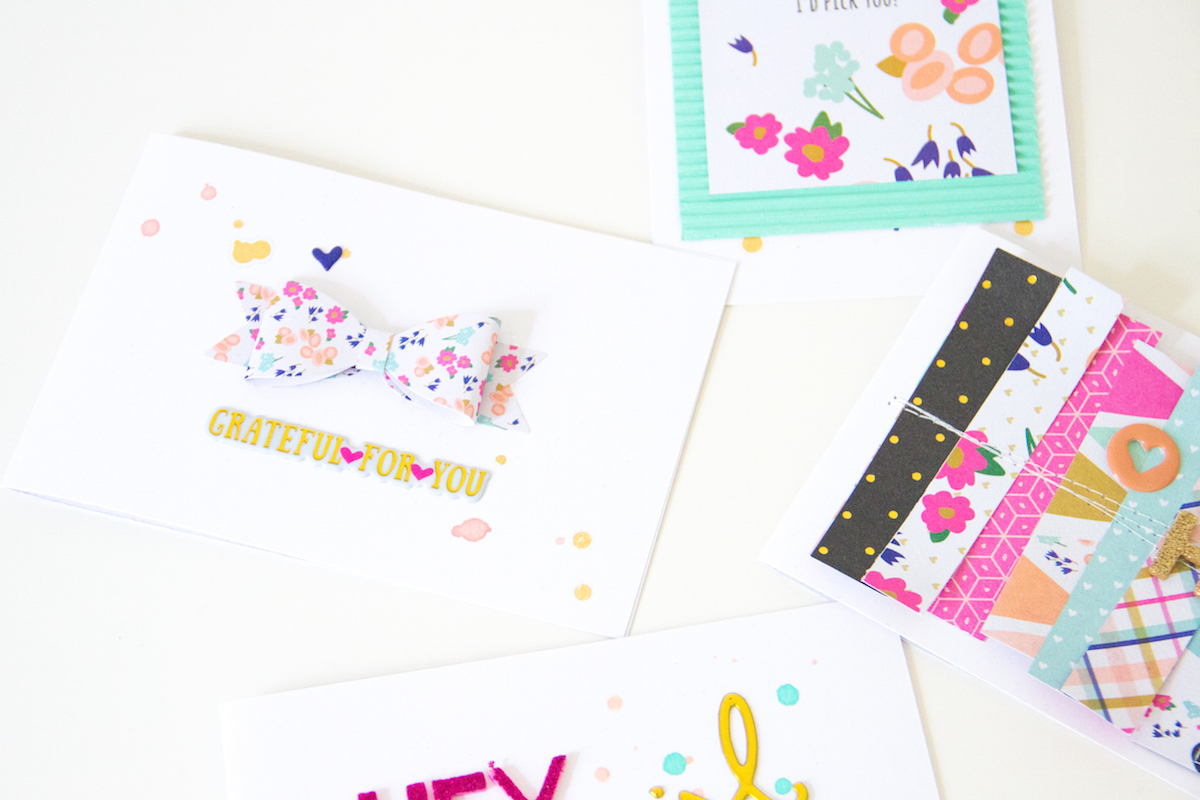 In den nächsten ein, zwei Wochen werde ich euch die restlichen Projekte zeigen, die ich mit der Kollektion gemacht habe – ich bin mir ziemlich sicher, von der wird am Ende nicht mehr viel übrig sein 🙂 Wie findet ihr sie denn? Die Kombination aus mädchenhaft und elegant mit ein paar "maskulinen" Elementen wie dem Dunkelblau & Schwarz ?
Verwendete Produkte/Products used:
Fancy Pants "Millie & June" – Collection Pack
Fancy Pants "Millie & June" – Patterned Puffy Alpha Stickers (included in collection pack)
Fancy Pants "Millie & June" – Puffy Design Stickers (included in collection pack)
Fancy Pants "Millie & June" – Paper Bow Set
Heidi Swapp "Color Shine" – Gold Lamé
Heidi Swapp "Color Shine" – Blush
Heidi Swapp "Color Shine" – Mint Green
From my stash:
White cardstock
Thickers Pink glitter (old Amy Tangerine "Other Half")
Thickers Gold glitter (old Dear Lizzy "Fox")
---
Hey there! 🙂 As I've already promised on Instagram a few days ago, today I'm sharing my first projects that I've made with the pretty new "Millie & June" collection by Fancy Pants, which is now available at the Scrapbook Werkstatt shop.
As you might have noticed, I have grown really fond of making cards. I usually make at least 3-5 cards with the same collection/kit so that I end up with a pretty coordinating set of cards. This time, I made 4 of them (so far – I'm sure there will be more)
What I really, really love about this collection are the colours! I've always loved the combination of mint, peach, white and gold, and now these colours are accompanied by some hot pink and a navy blue and it looks fabulous! I don't often use navy blue on my projects (especially not in this combination), so this was a welcome breath of fresh air. I also like that the collection pack already includes all of the 6 patterned papers (2 of each), plus 2 corrugated cardstocks (in mint & black), a golden paper, as well as the patterned puffy alphas and the puffy design stickers. That way you already get what you really need. I also got myself the paper bow set and I am completely in love with it (evidenced by the fact that 3 of the 4 cards shown here include one of those paper bows) – it's my absolute favourite piece of the whole collection!
The paper bow set includes 5 sheets of pre-cut bows (6 bows of each design, so 30 bows in total) that come in 3 different sizes. You can see all the 3 sizes in the first and third photo (largest to smallest from left to right). I love that they are so easy to make! You don't need a Silhouette or BigShot or any kind of machine but you still get the same look! Honestly, I'm really loving them – I might need to get a second package 😀
What do you think of the collection? Do you like the mix of feminine, girly colours & patterns with the more masculine touches of navy blue, black and gingham pattern?
I'll show you some more projects with this collection in the next week or two, so stay tuned 🙂