Hey there and welcome to the "Top Ten Blog Hop 2017" – a blog hop where some papercrafters and scrapbookers share their personal favourite projects from this year. When Christine invited fellow crafters to join in on this blog hop, I immediately jumped on this chance because a) it's so much fun to do a recap like this, and b) blog hops are always great – not only because there might be a giveaway or two along the road (although that certainly is a nice treat 😉 ), but also because you can discover new (to you) bloggers and crafters this way!
I decided to make a Top 10 "hitlist" (some people will share more, some less) of my personal favourites and tried to rank them but the ranking isn't really "fixed" – it's hard to do when there are so many different projects involved 😉 So, are you ready?
1. This Accordion Summer Mini Album was without a doubt my No. 1 favourite project of this year! It still gives me so much joy flipping through the album and rediscovering all the details 🙂 You can also watch a quick flip-through (or a more detailed walk-through) video here.
2. A close second were the projects I made for my "Use your Scraps" class over at Big Picture Classes; the class as a whole project was a lot of fun (and work!) to put together and I'm excited to see how you like it! I may or may not already be working on my next classes 😉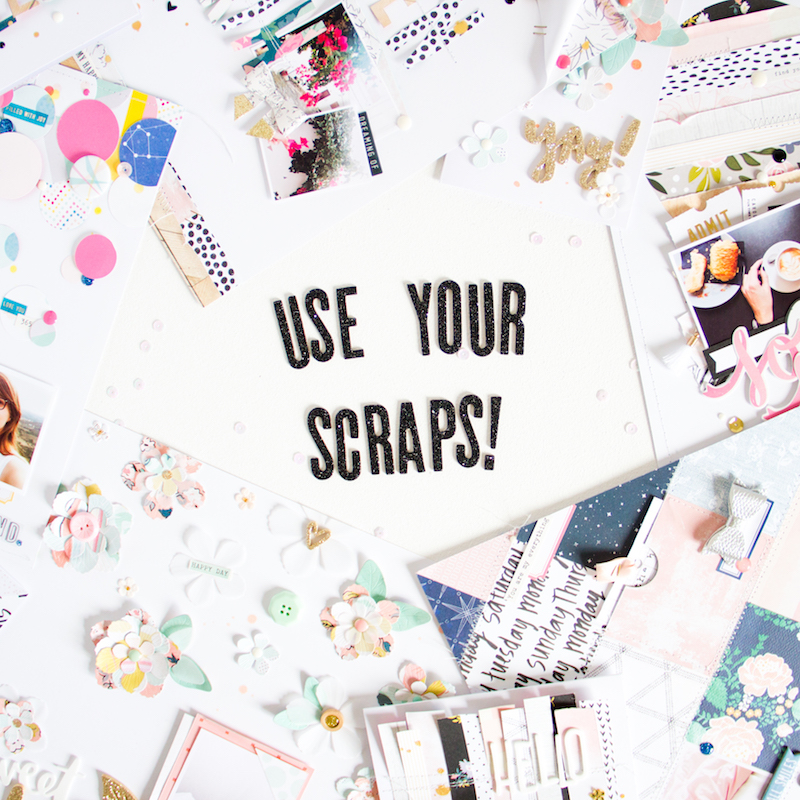 3. Coffee and Crate Paper (especially the "Gather" collection) are two of my favourite things, so a layout that combines both of them must make it into my Top 10, right?! 😀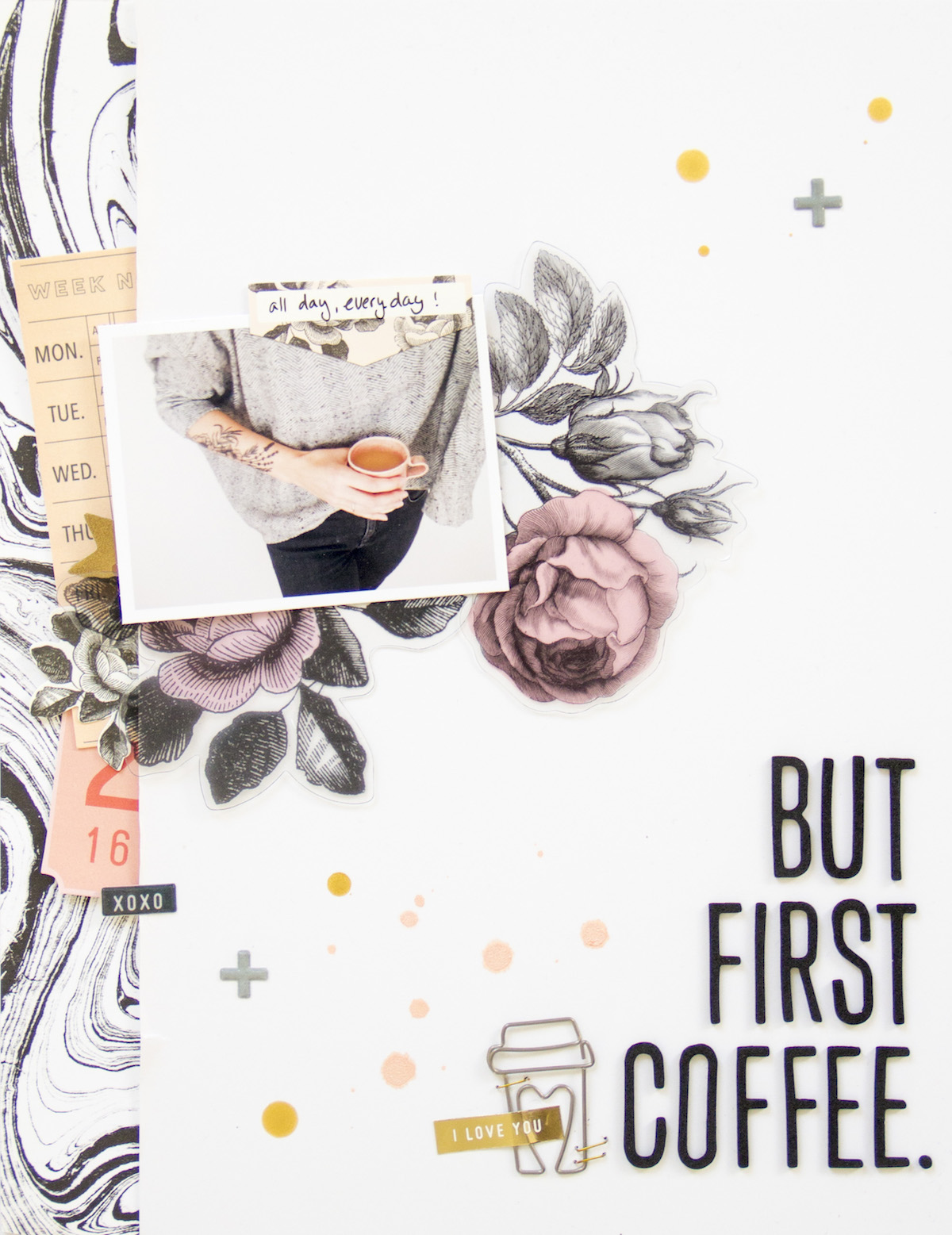 4. Another mini album! My (not yet finished) December Daily album for this Christmas season. It's the first time I didn't give up after only three days and I'm very determined to get it finished in the first week of January (I will do my DD until Dec, 31st) because even in its unfinished state it already makes me so ridiculously happy to look through! (You can watch a quick flip-through video with my foundation pages and the first few finished ones here)
5. This layout was my first project as part of the Pinkfresh Studio Design Team using the "Escape the Ordinary" collection and it still is one of my favourite layouts from this year. I just love the colour scheme and the photo I used 🙂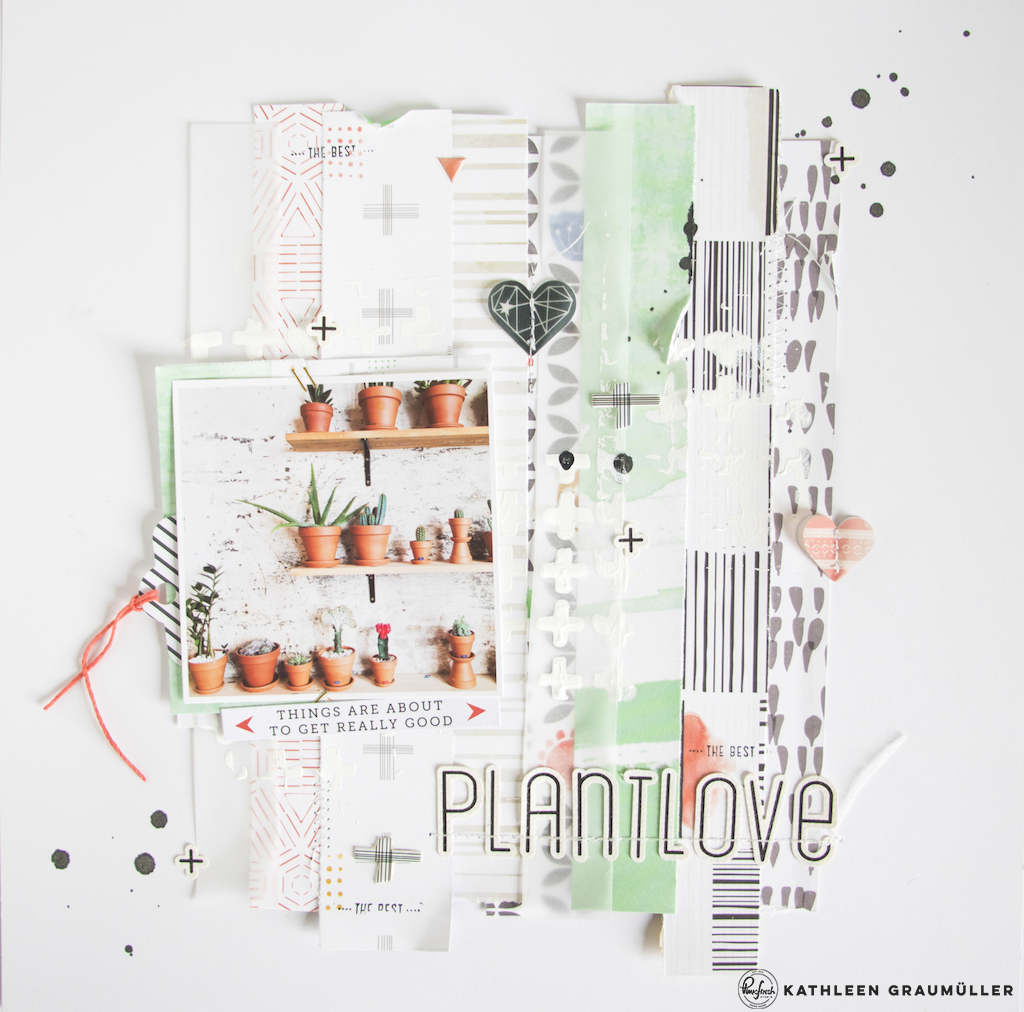 6. This layout that I made with the Felicity Jane Heidi kit is also one of my favourites, which doesn't surprise because the Heidi kit was also my absolute favourite FJ kit to work with this year (although it is really difficult to pick a favourite!)
7. I think it's always good to venture out of your comfort zone and sometimes the result might even end up being one of your favourite projects 😉 That's what happened to me with this "Bloom" layout that is a bit more dimensional and, uh, die cutty (yeah, totally a word…) than my usual layouts 😉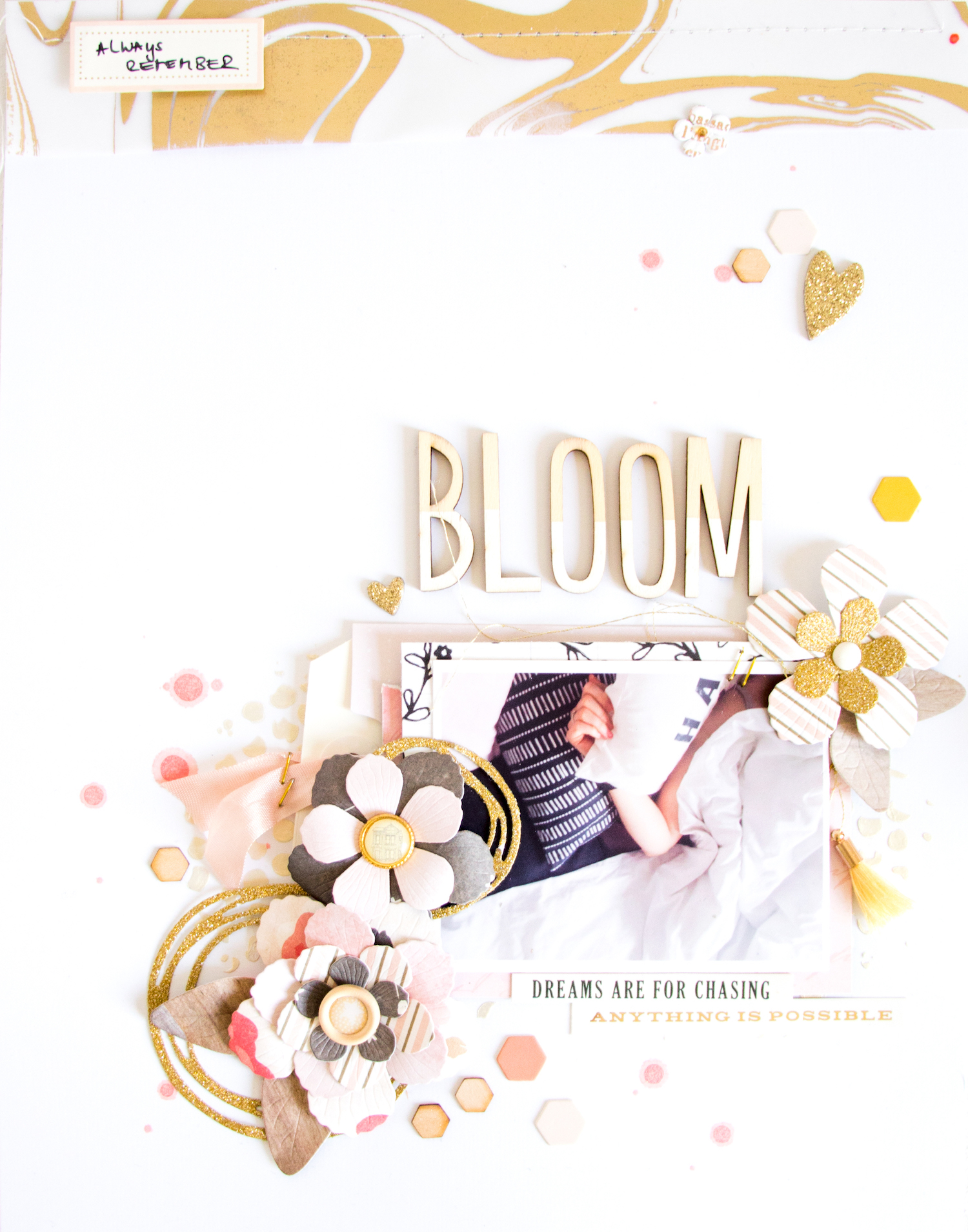 8. Same goes for this "You Rock" banner that I made with the Boy's Fort collection by Pinkfresh Studio – much more masculine than any of my projects but it was just SO much fun to make!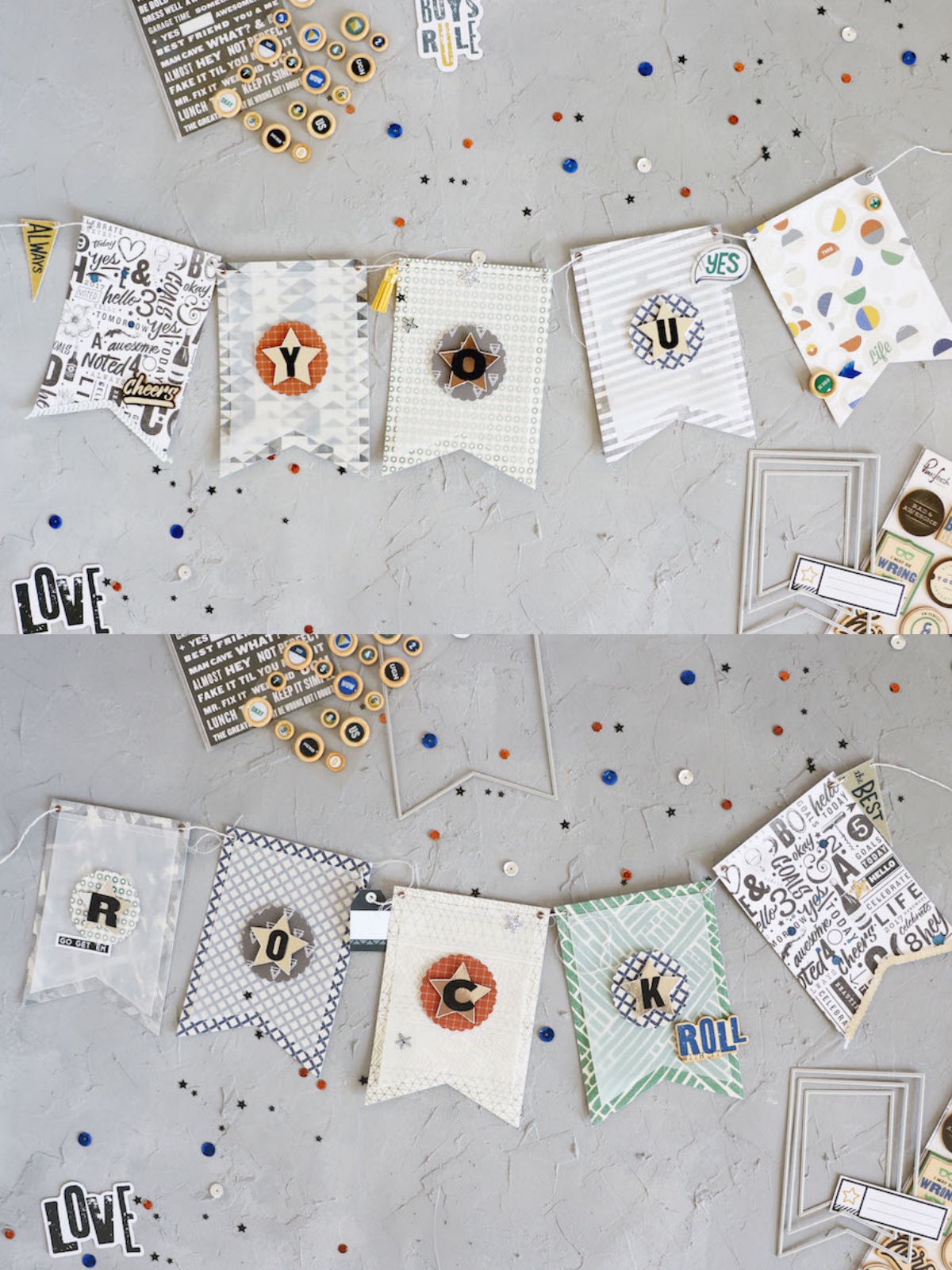 9. The "Wild at Heart" collection by Cocoa Vanilla was also one of my absolute favourite scrapbooking collections this year, so it's no surprise that one of the layouts I made with it made it into my Top 10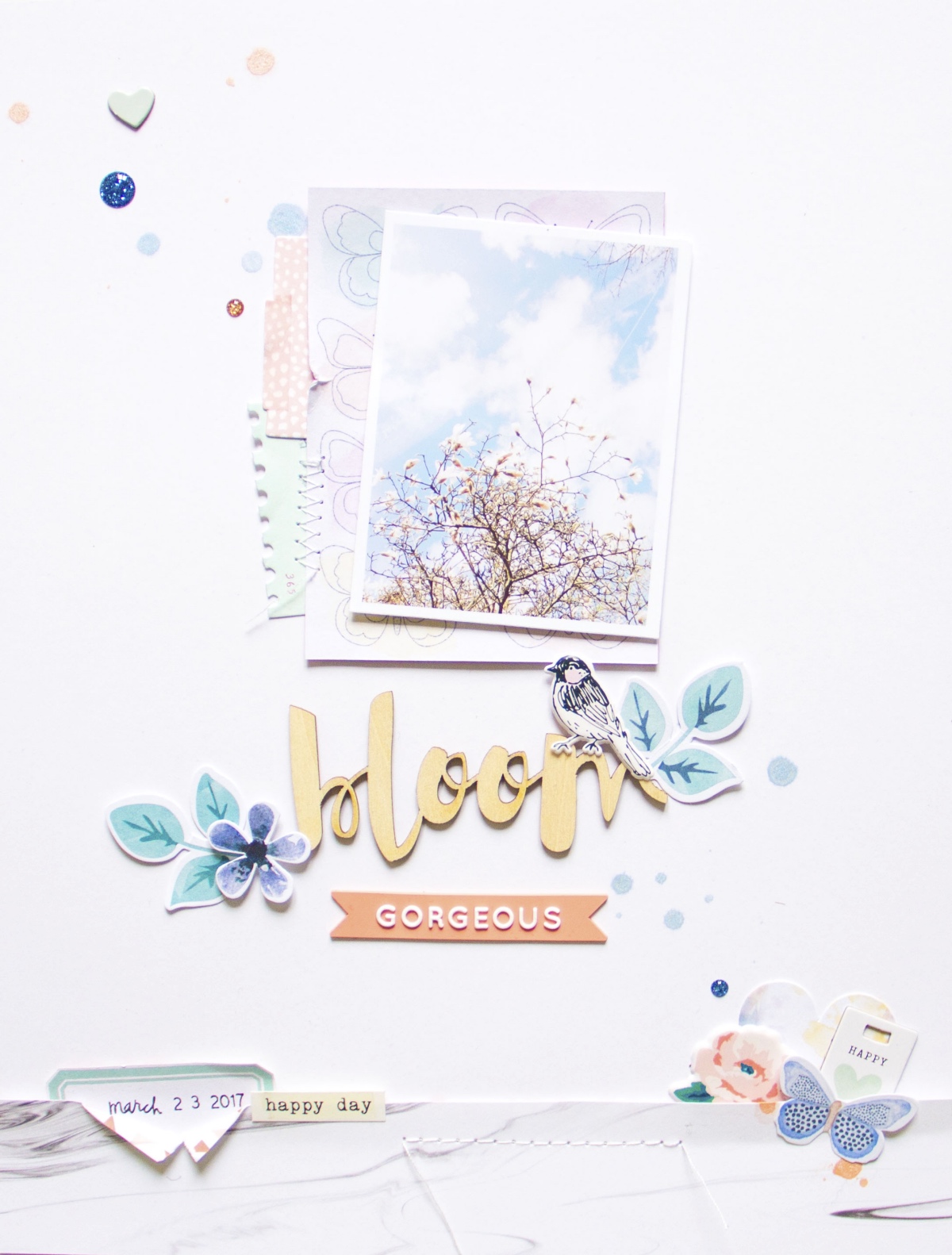 10. This Crop Packing List was not a scrapbooking project as such, but it is connected to scrapbooking and it definitely is one of my favourite things that I made this year! I've had the idea for making a Crop Packing List for quite a while, but never got around to doing it. When it was time to pack for a crop though, I knew I now had to make it happen 😉 You can download your free printable Crop Packing List here (it's available in English, German and Spanish!) – hope you like it and get some use out of it!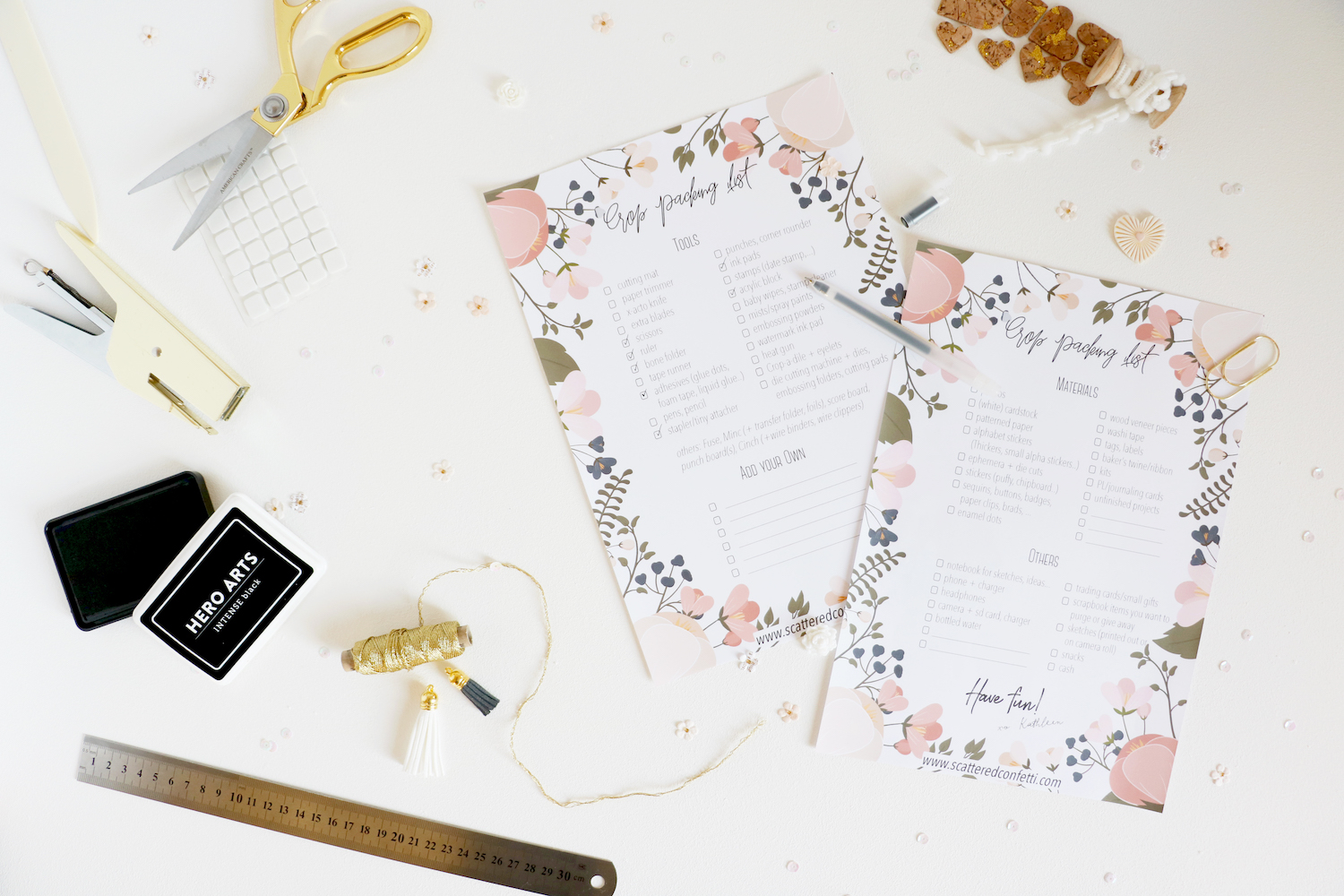 Whew – what a year! It was a year full of trying new things (uploading my first videos to my YouTube channel, my first "own" online scrapbooking workshop, joining some amazing DTs (Felicity Jane, Pinkfresh Studio, Citrus Twist Kits), making my first free printable, …) and more), meeting new people, planning, making, creating… and it sometimes felt like everything was happening at the same time (and it sure was a lot of work!) but I feel so happy and grateful for all the chances and opportunities I was given this past year! I can't wait to see what the new year brings (lots of exciting things are already in the planning/making!)
I hope you can all look back on the past year and find some favourite memories/projects/events/… and I would love to hear (or even better, see!) what your favourite project in 2017 was! Thanks so much for stopping by!
If you want to continue on this Blog Hop, you should now hop on over to Teri Anderson 🙂
And these are all the other talented ladies on the hop:
Christine Meyer // Kathy Skou // Teri Anderson // Susie Bentz // Janice Daquila-Pardo // Giorgia Rossini // Laurel Seabrook // Aimee Kidd // Mary Ann Jenkins // Keren Tamir // Lee-Anne Thornton // Heather Leopard // Tifany DeGough // Sue Eldred // Melissa Elsner // Laura Whitaker // Anita Mulcahey // Ashley Smith // Simone Schermann // Shelly Kurth // Monique Liedtke // Suzanna Lee // Marcia Dehn-Nix // Laura Cox // Irit Shalom // Nicole Martel // Carolyn Johnson // Tenia Nelson // Samantha Taylor // Rebecca Keppel // Judy Hayes // Traci Penrod // Tracy McLennon // Karen Hunter // Lyne Blodgett // Anna Sigga // Lisa Moen // Kat Benjamin // Wendy Antenucci