Hello lovelies! I hope you had a great weekend!
I'm going on a crop* next weekend and I'm so happy I finally get to sit together with like-minded people again and chat and craft the day away 🙂 I've been looking forward to the coming weekend for a few weeks now and if it wasn't for the fact that i still needed most of my scrapbooking stuff in that time, I probably would have already packed my bags!
* a crop, for everyone that hasn't heard of that term, is a get-together of fellow crafters and scrapbookers who spend some time scrapbooking, chatting, eating.. (well, mostly chatting, haha 😀 )
I'm sure some (or most?) of you have been to a crop before and you have your own list of essentials you always need to take with you, but maybe there are also some people who haven't been before and don't really know where to start when packing. So I thought I would share an overview of my essential items and, as a bonus, a free downloadable checklist at the end of this post you can all print out for when you are packing for a crop. Because if you're like me, you love checking off lists and even more so when they are pretty, right? 😉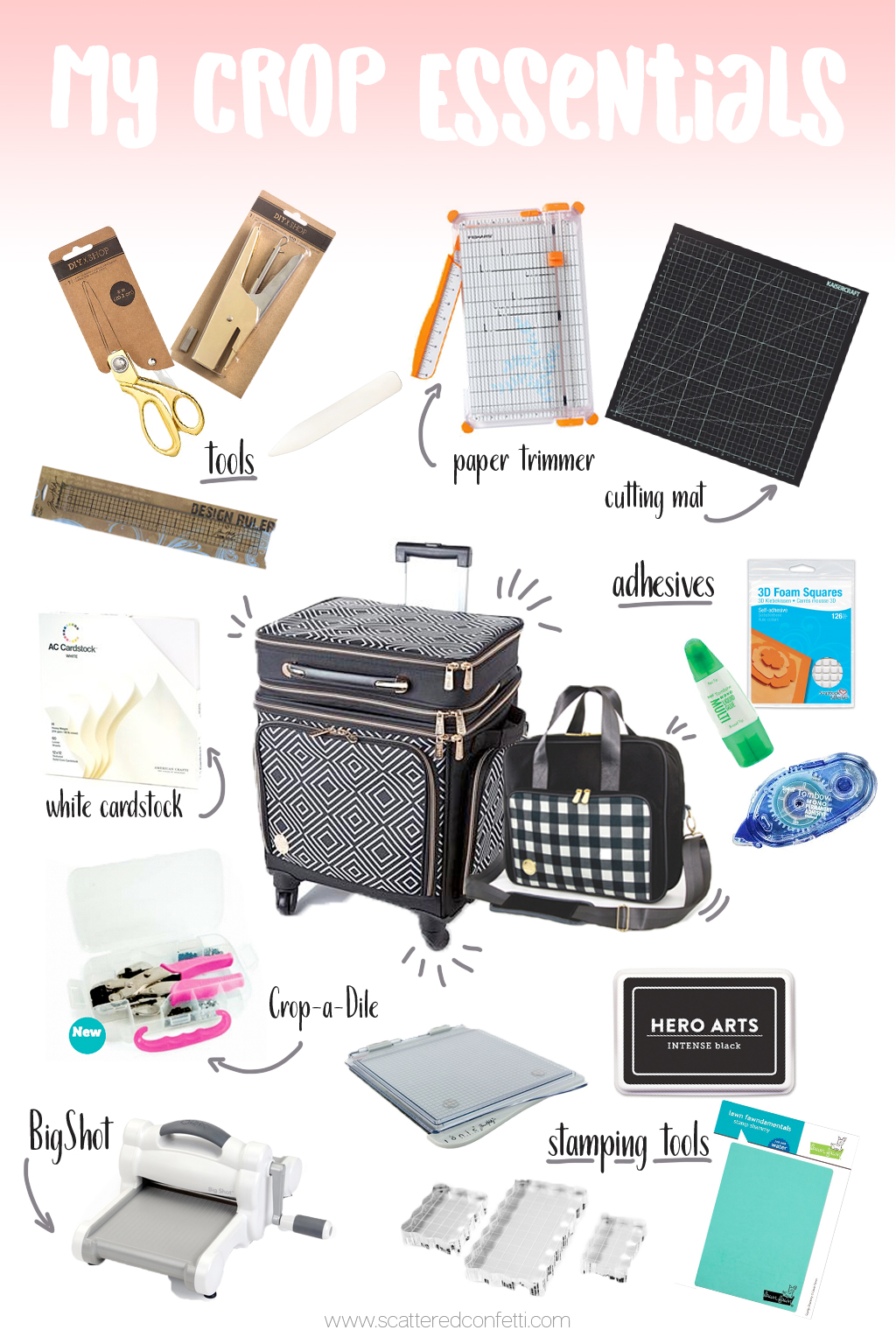 Just recently I treated myself to this We R Memory Keepers 2-in-1 Rolling Crafter's Bag (left) and I'm SO excited to finally be able to use it for the first time!! What I love about this one is that it is just HUGE. I can basically fit almost all of my scrapbooking stuff in there, so I don't really need to decide what (not) to pack. Even my BigShot fits in there! And, as the name says, you get 2-in-1, so you have that rolling suitcase plus a hand carry bag where you can put in your papers, embellishments, etc. Before I only had the We R Memory Keepers Shoulder Bag (a different colour, but same model) but even in this I could fit a whole lot of my stuff!
I completely understand when someone says they don't need a whole suitcase, so this shoulder bag is a great compromise! For me it definitely made going to crops or workshops a lot easier than throwing everything into different bags and boxes.
But now what do I fill those bags with? Well, these are my "must haves":
tools:
my paper trimmer (I swear by my Fiskars paper trimmer!)
adhesives:
stamping tools:
white cardstock (I need this for almost all of my layouts)
my Crop-a-Dile (one of my best crafty investments, seriously; I have the golden one but couldn't find it in most shops anymore)
…and now that I can fit it in my big bag: my Sizzix BigShot (oh yes, you bet I'll take that with me!).
Of course I also always bring my favourite papers/collections and embellishments with me, but since these vary (and they wouldn't all fit into that collage) I didn't include any specific ones in this overview 😉
So, as you can tell, I've spent some time getting organised for this crop and thinking about what I want/need to take with me, and as I was making my list, I thought: a) why not make it prettier and b) why not make it available for everyone else? Because when I searched for a printable checklist online, I couldn't find anything that suited my needs. So I hope the following list (includes two pages) will be as useful for you as it is for me! And since everyone is a bit different, I also left some blank space where you can add your own notes and ideas.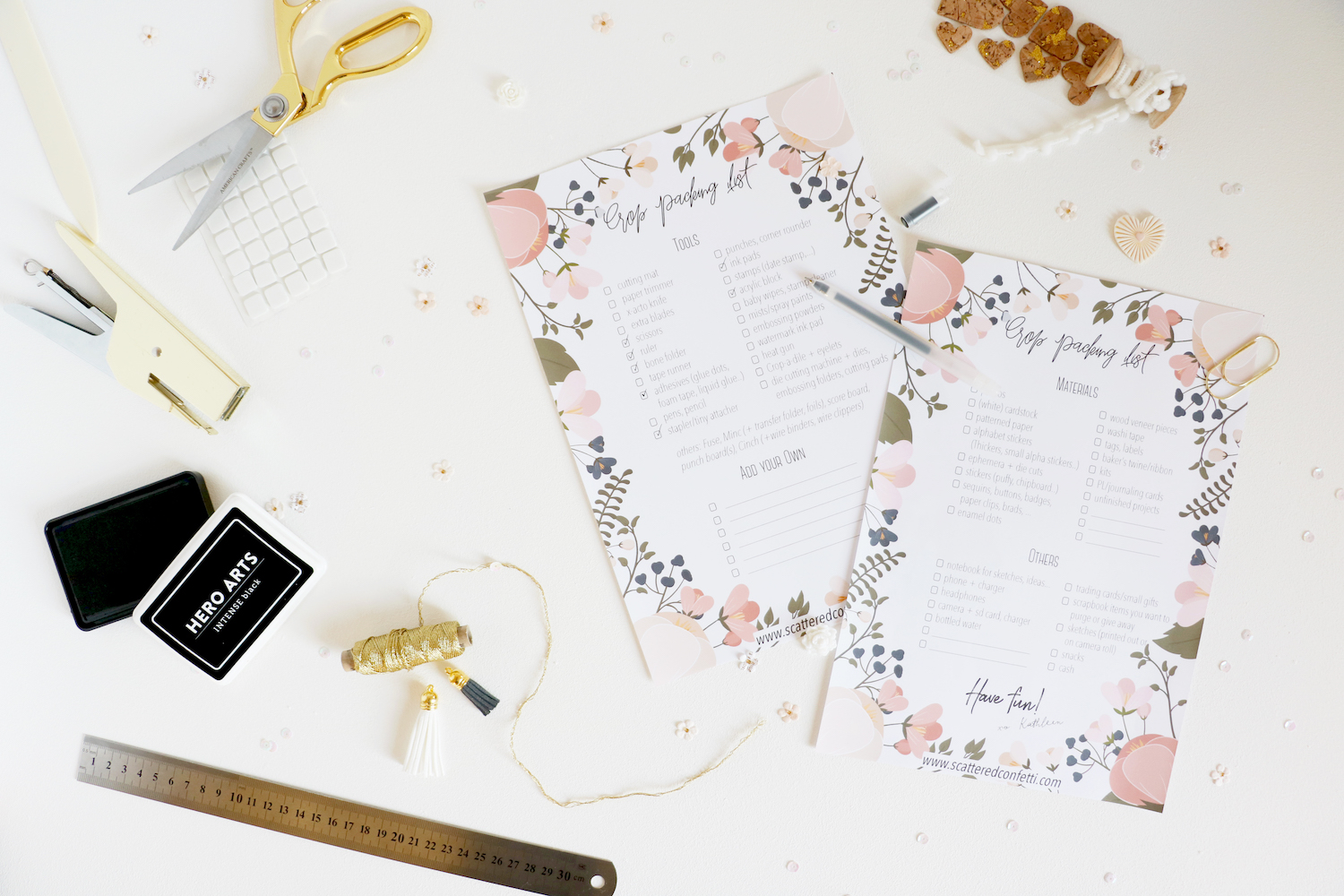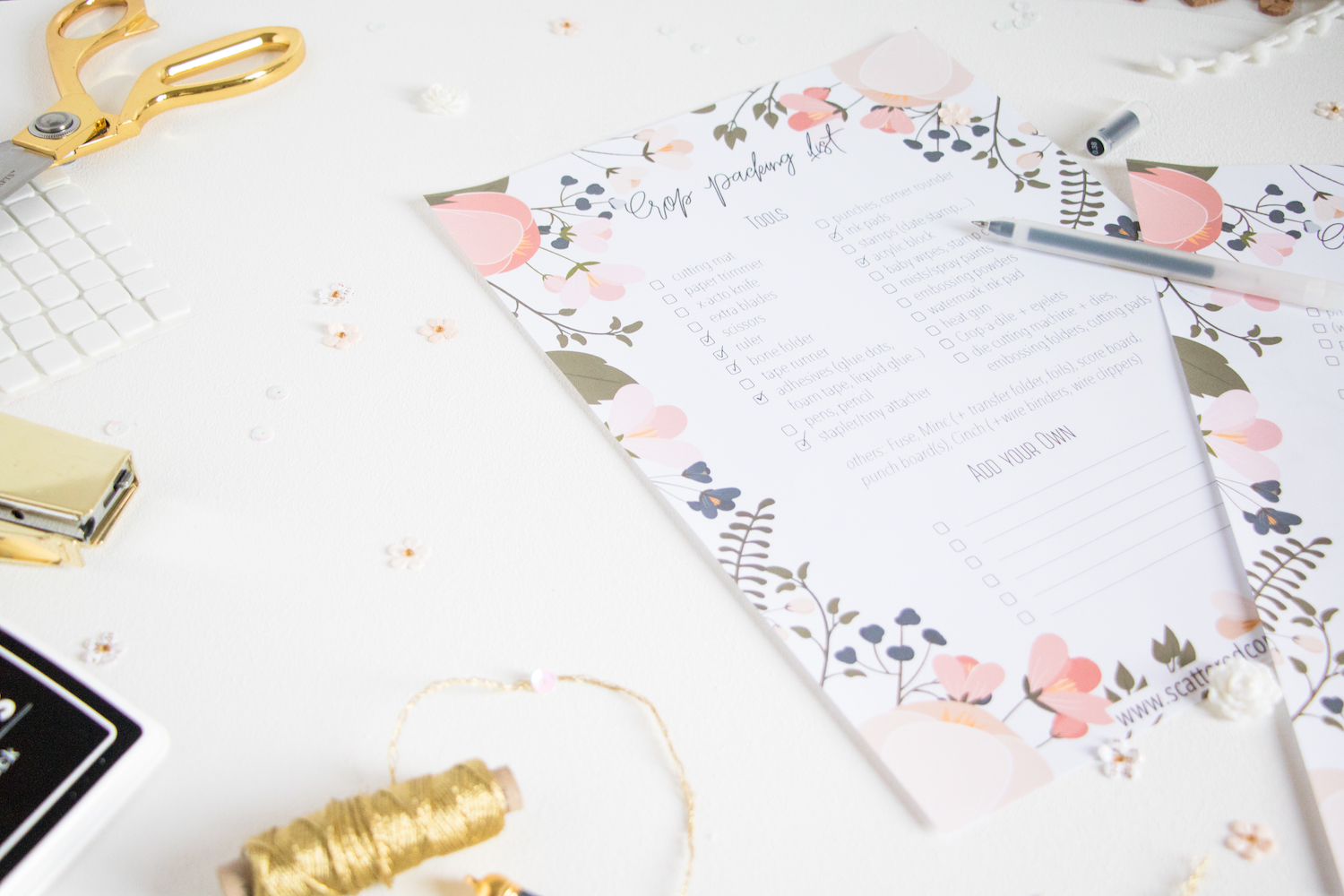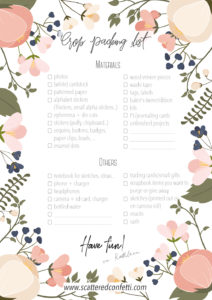 Oh, and the printable is not only available in English, but also German and Español, mis amigas 🙂 I really hope you enjoy it! All you need to do is download the list and print it out (it's sized for standard A4/letter size).
Grab yours here:
Crop Packing List - Floral Version - English
Crop Packing List - Floral Version - Deutsch
Crop Packing List - Floral Version - Español
All downloads are for personal use only. Commercial use, the distribution and editing of them is strictly forbidden, unless consent is given by Kathleen Graumüller "Scattered Confetti". Of course you are welcome to share these with your friends, but please don't offer this checklist as download on your site – always link back to this post. Thank you!
---
* My blog content may contain affiliate links for products I use and love. Compensated affiliate links present no additional cost to you.  If you buy sth. trough my affiliate link, I'll earn some coffee money which will help keep me going and create more projects for you 🙂 Thank you for your support!
Merken
Merken
Merken
Merken
Merken
Merken
Merken
Merken
Merken
Merken
Merken
Merken
Merken
Merken
Merken
Merken
Merken
Merken