Hey there 🙂
It's been a bit quiet around here – again – and I apologise. Although I'm not sure I really need to, because, after all, this is my space and I'm the one who decides how regularly I want to post here and what I want to write about. And this thought already leads me to the underlying "theme" of today's blogpost: making what I want. Just because I want to. Not because I have to.
You know, I could just go ahead and share the photos of the results of yesterday evening's spontaneous halloween-themed crafting session (and you are absolutely welcome to just skip ahead, look at the pretty pictures and go on with your day 😉 ). But I really want to tell you something more about the "why" of this project. So if you are interested in hearing more about it, go grab a cup of coffee/tea or whatever you like and make yourself comfortable. It might get wordy.. who knows 😀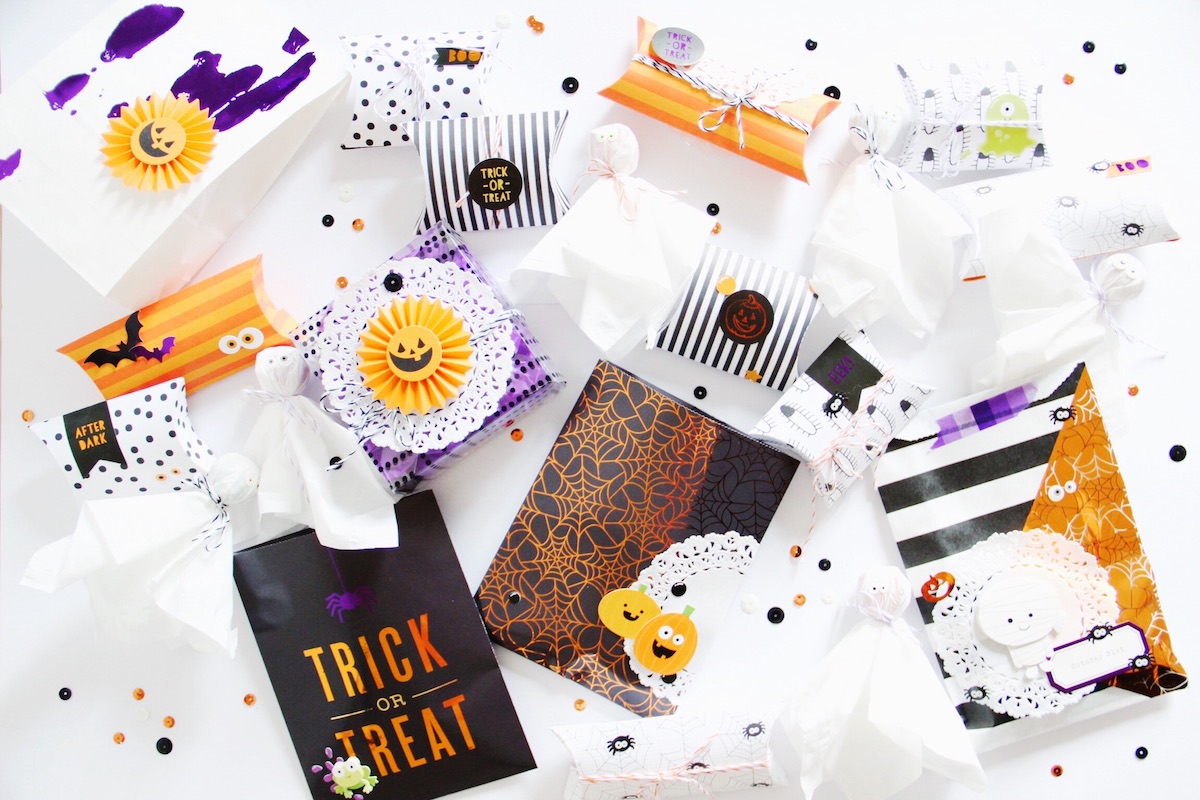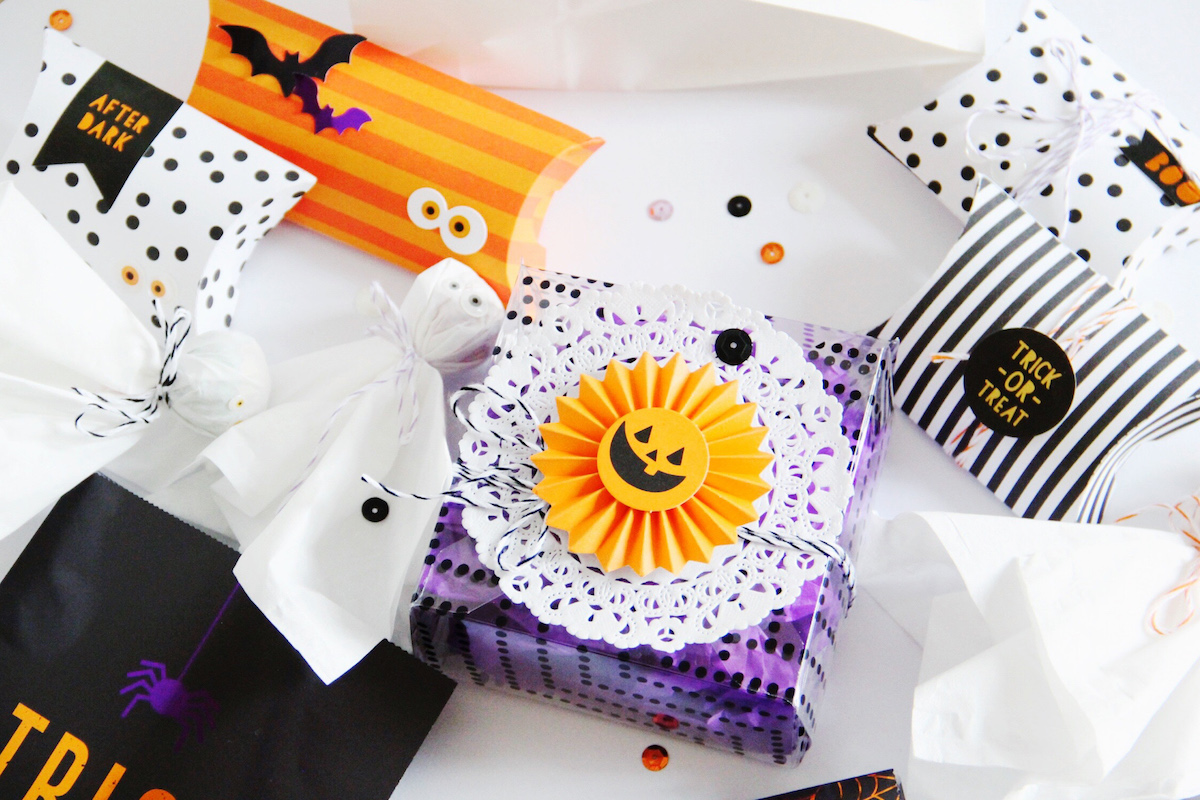 First of all you need to know that I'm not really into halloween at all. I haven't "celebrated" it as a kid (it wasn't all that popular when I was younger and it's only now becoming more and more popular over here in Germany), I don't really like dressing up and to be honest, I don't really "get" it. So this also means that I've never done any halloween decorating or crafting because, I mean, what for if I don't have any kids who would be into it and neither me nor S. celebrate it? When the halloween-themed crafting/scrapbooking products started hitting the online shops earlier this year, however, I was desperately trying to find a reason to buy some of those cute products 😀 (like this adorable mummy, those cute spiders or these eyes – so cute right?!) But I just couldn't justify buying something only because it was cute, knowing I wouldn't (be able to) use it. So I tried to get them out of my head. As halloween was coming nearer and nearer, I was still thinking about what I could make with them. But I kept thinking that I don't really have a use for any of them and that they don't go with any of my projects I was/am working on for my design teams.
And then it hit me. Why would they need to go with my DT projects?! Why would I need to make something with them to promote sth? Why would it need to be for me?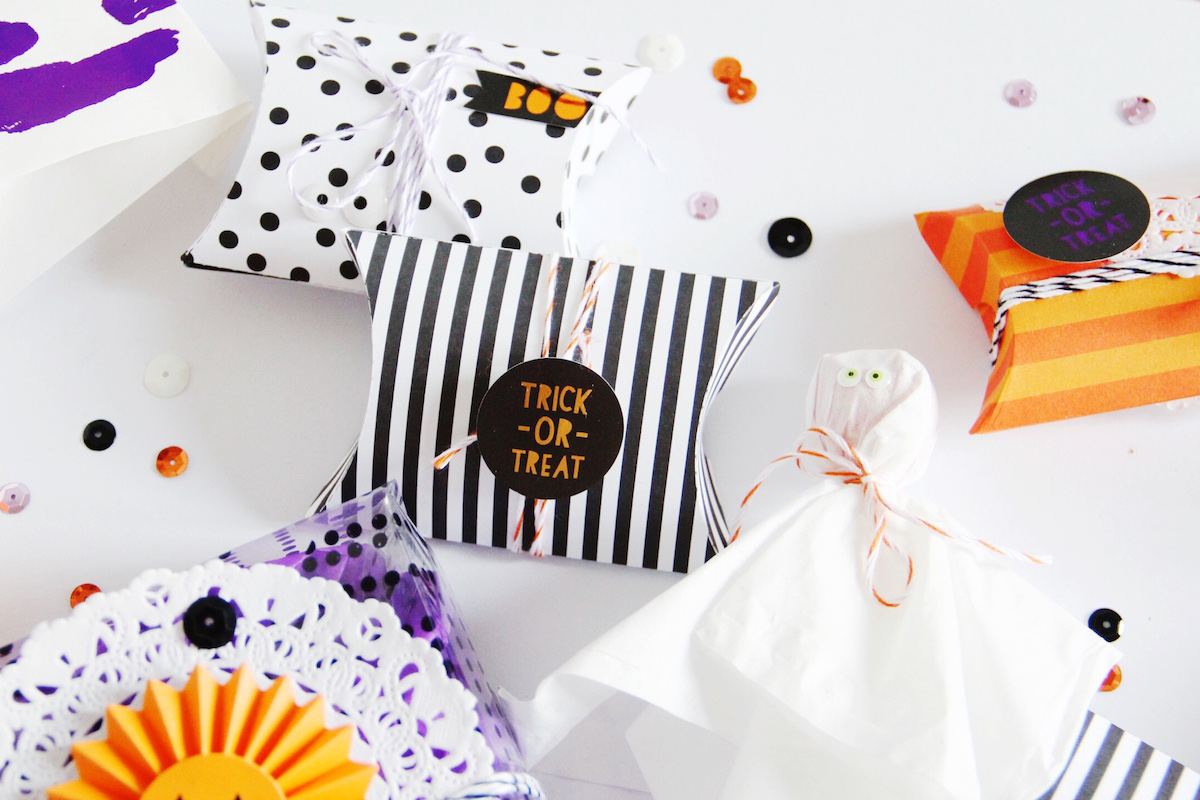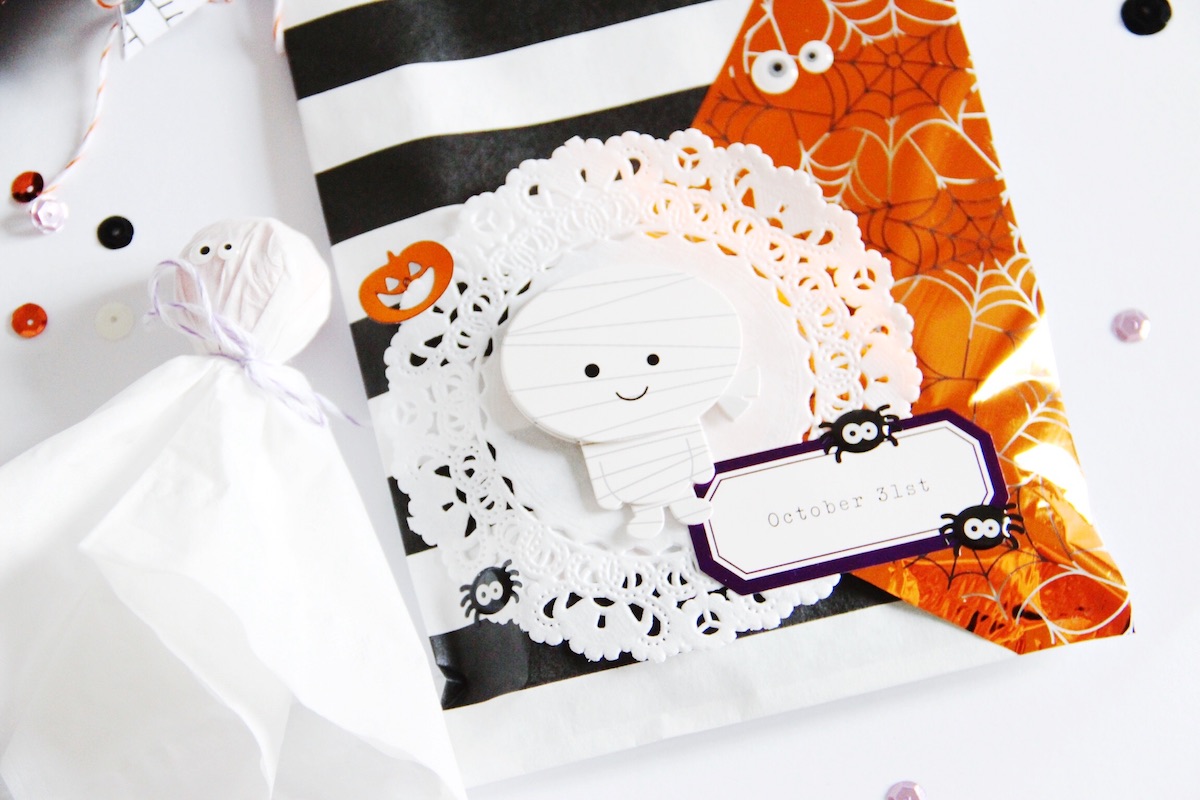 As I was driving home from work (which luckily is a scrapbooking shop 😉 ) yesterday, I had a lightbulb moment and decided I would make some cute little treat bags and boxes for my colleagues and their kids! So after I had already gone about half of they way, I turned around, headed back to work and grabbed some products I would need for my project (and finally also the mummy, the spiders and the eyes I talked about earlier :D). I was SO excited to get back home and start crafting! And to be honest, I haven't felt like this in quite some time. Don't get me wrong: I love my DTs and I like working for those awesome companies (I wouldn't if I wasn't convinced by them!) but there is a difference between making something just for fun, just for me and having to make something with certain products and with a deadline in mind. At least there is for me.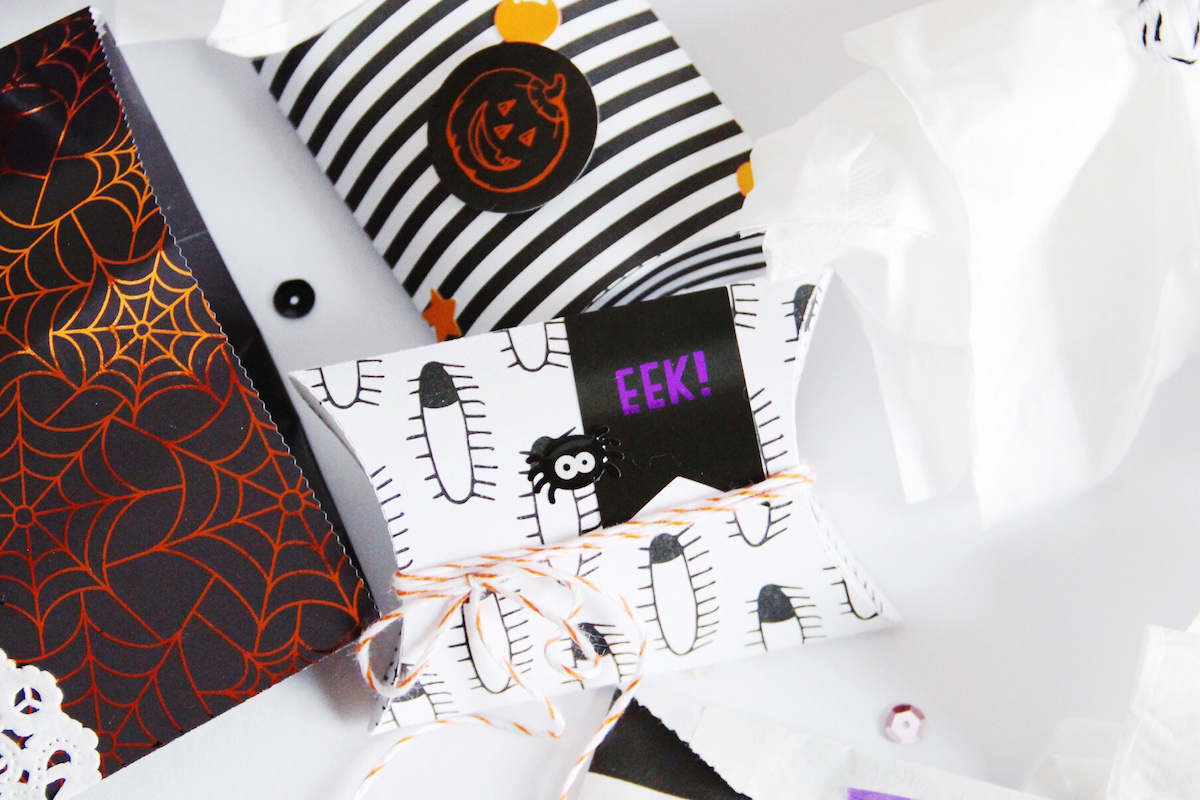 While I was working on all of these little bags and boxes you can see in these photos yesterday evening, I was grinning from ear to ear the whole time! Whenever I finished a little piece, I would show it to S. – proudly grinning at him 😀 I didn't look at the clock even once, I was so absorbed in it. When I was done with the basis for the pillow boxes and the treat bags, I started decorating them. While doing that, I tried to customise them as much as possible to the person I wanted to give it to, which was so much fun!
I filled the bags and pillow boxes with different kinds of candy. The ghosts are actually lollipops which I covered with a facial tissue 🙂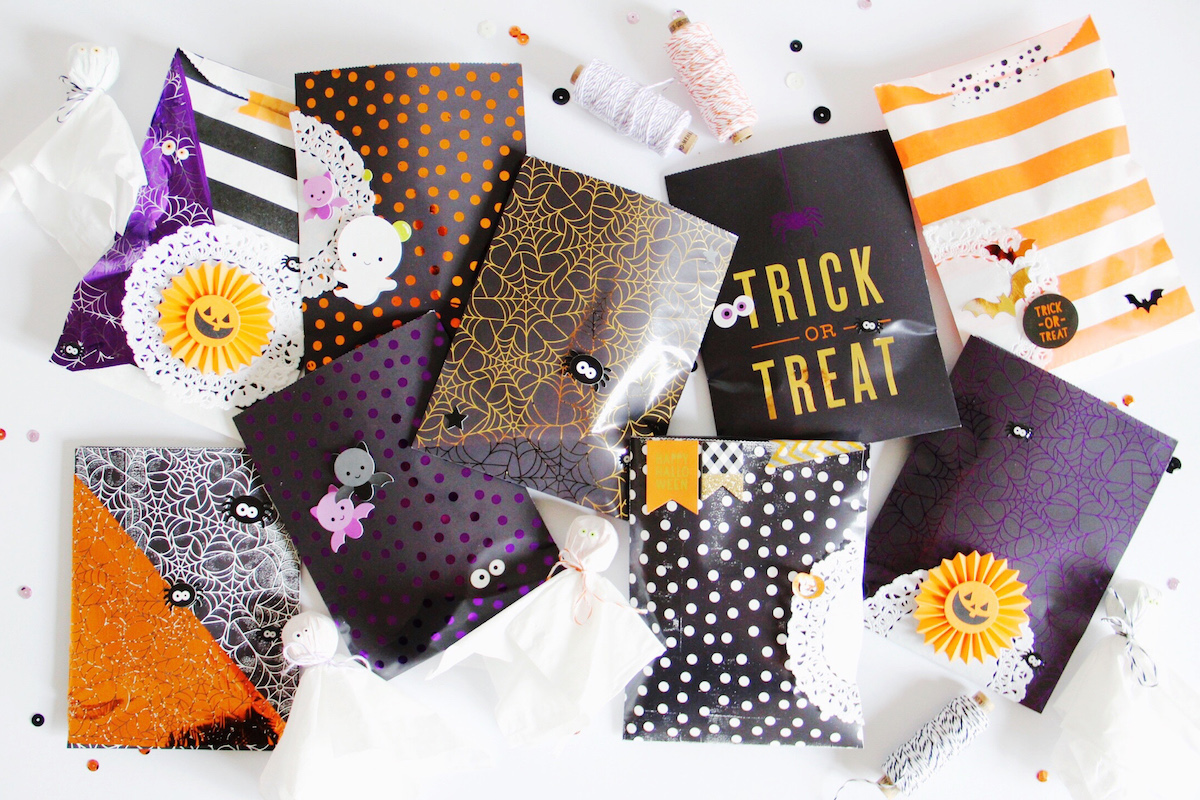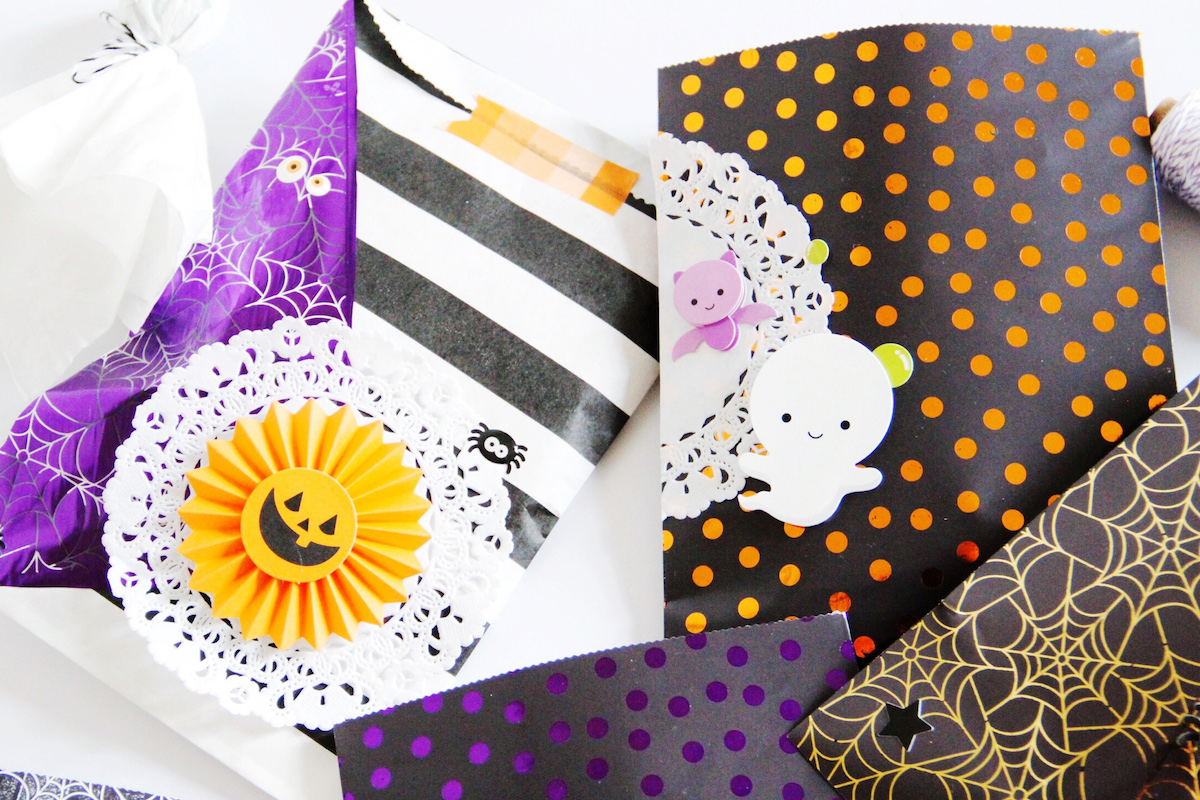 I really cannot wait to give those little gifts to my colleagues! Unfortunately, I won't be able to see the faces of their kids when they give the gifts to them but that doesn't really matter because I know they will be delighted and I just had so much fun making them (can you tell I had fun?! haha) that that's enough for me.
I'm really really pleased with the result of this lightbulb moment idea and it just reminded me that it is really important to make something just for fun, just for you, every once in a while! And "just for you" in that case doesn't necessarily mean that you will keep the final product in the end, but rather that you make it because you want to and that it doesn't really matter if in the end the project ended up somewhere in a box or in someone else's home or maybe even no-one else besides you sees it. Sometimes the journey really is the reward 🙂
So I guess what I am trying to say with this (probably too) long blogpost is: When was the last time you made something just for you, just for fun? Just because you wanted to. It's probably been too long ago. So: what is the first project that comes to your mind that you've wanted to make for quite a while but just didn't (for whatever reason)? And I'm not necessarily talking about someting big like learning to knit or going to a pottery class. It could be something simple like making some "just because" cards with some stamps that you have lying around that you haven't used (in a while or ever), or making a little mini album about you/your favourite memory/person/… or…  Whatever it is: Make it! Don't overthink it. Don't actually start thinking about it all that much, just start!
And if you do, I'd love to know what it is that you've made (or want to make) 🙂
——————————————————————————————————————-
Products used:
Please note: As I explained above (in very much detail :D), I didn't make any of this for promotion. However, I still want to list the products I used because someone might be interested to know what a certain product is in case they wanted to get it, too.
Crate Paper "After Dark" – Standouts

Doodlebug Design "Boos & Brews" – Shape Sprinkles (Spooky Spiders)

Doodlebug Design "Boos & Brews" – Shape Sprinkles (Eerie Eyes)

Doodlebug Design "Boos & Brews" – Doodle-Pops (Mini Mummy)

Doodlebug Design "Boos & Brews" – Mini Doodle-Pops (Cute Critters)

Doodlebug Design "Boos & Brews" – Spooky Spiders

Doodlebug Design "Boos & Brews" – Icons Sticker

Garn & Mehr Baker's Twine – Black & White

Garn & Mehr Baker's Twine – Orange & White

Garn & Mehr Baker's Twine – Purple & White

Some older patterned papers from my stash
* Shopping links are affiliate links
Merken
Merken