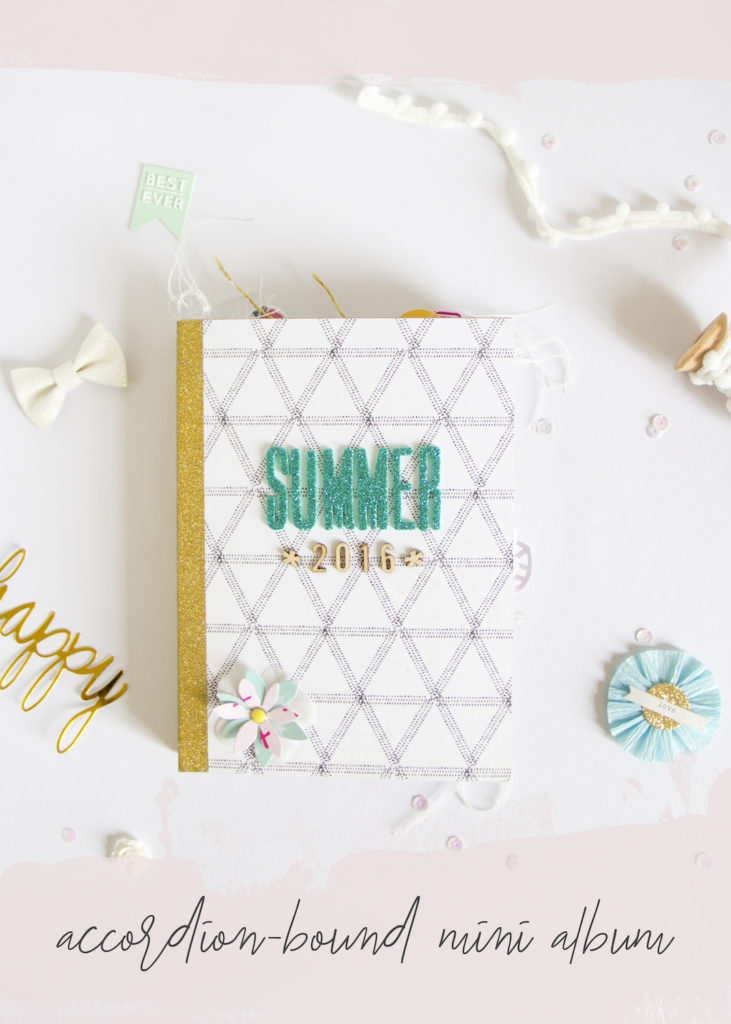 Hey there 🙂 Summer is in full swing around here, so I thought it's the perfect time to share a mini album that I made about my favourite events and moments from Summer 2016. The base of the album was inspired by Stephanie Bryan's "Summer Bucket List" mini album class at Big Picture Classes. I did change it a bit though, to make it a little sturdier.
With this mini album I also tried a few things for the first time, like the accordion binding and adding my journaling with my new We R Memory Keepers typewriter that I got from my former colleagues as a farewell gift. And: I can already tell that this will be a game changer for my scrapbooking projects! Lots of my layouts and mini albums lack a bit of journaling and the reason usually is that I don't want to mess it up with my handwriting.. I try to add hidden journaling whenever I can, but I think having some "open" journaling does add a lot to a project.
Because the basic structure of the album is so simple, I actually managed to start and finish this one in one evening! I'm notorious for starting the next mini album before I finished the last one, but this time I was determined to get it done before I moved onto the next one – and I did it!  Cue happy dance 😀 I'm really happy with how it turned out and that I now have a record of some of my Summer 2016 highlights. Flipping through this album makes me really happy 🙂 So, be prepared for a whole truckload of photos. Oh, and at the end of this post I also linked the two videos I made for this album: one short(er) flip-through and one detailed walk-through with some explanations and babbling from me 😉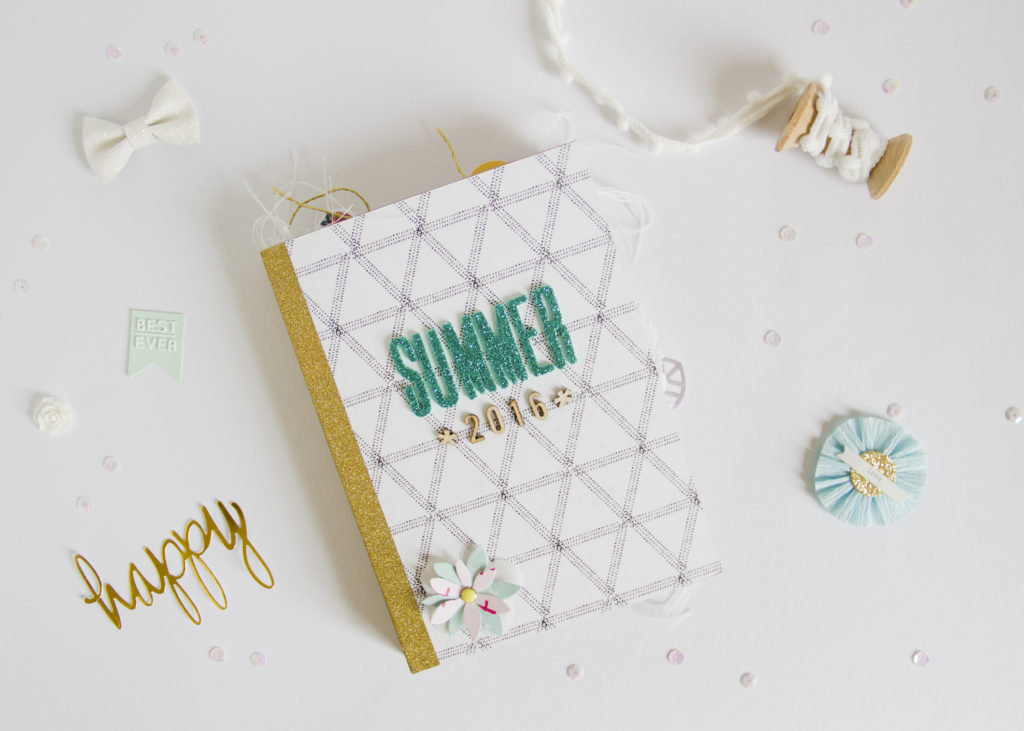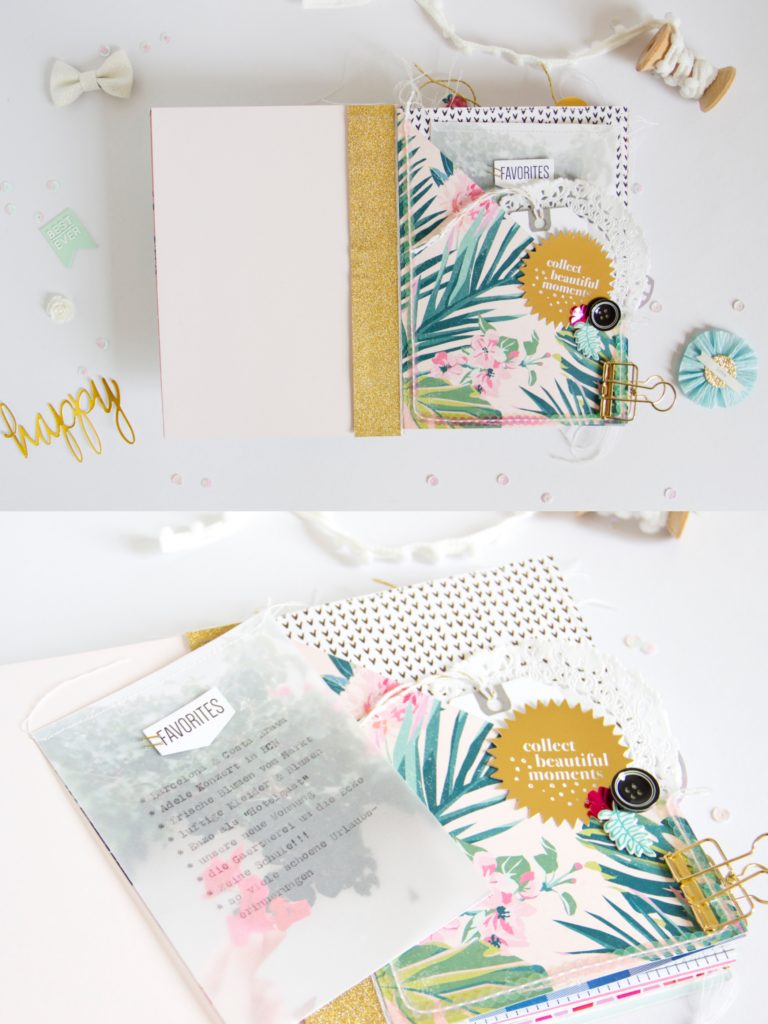 Each page of this album is a pocket page which I used to tuck in one photo on which I sow a piece of vellum. To add some journaling to the vellum I used my We R Memory Keepers Typecast typewriter and also embellished them with some sequins, stamps or the like. On this first page I listed some of my favourite memories from that summer, like the Adele concert we've been to in Barcelona or the fact that this was the first summer in our new apartment and I could go full on crazy plantlady on our big balcony 😀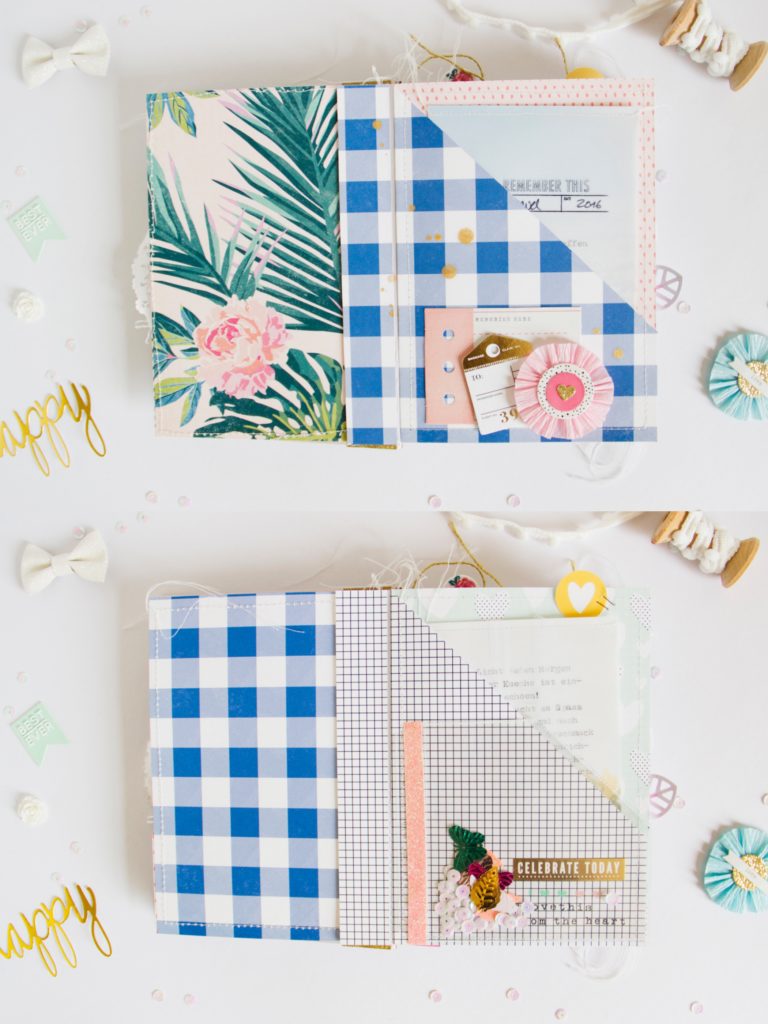 On this page (above & below) I added a little shaker pocket that I made with a 4×4″ page protector and my Fuse tool. There's probably (almost) no mini album of mine that doesn't have a shaker pocket.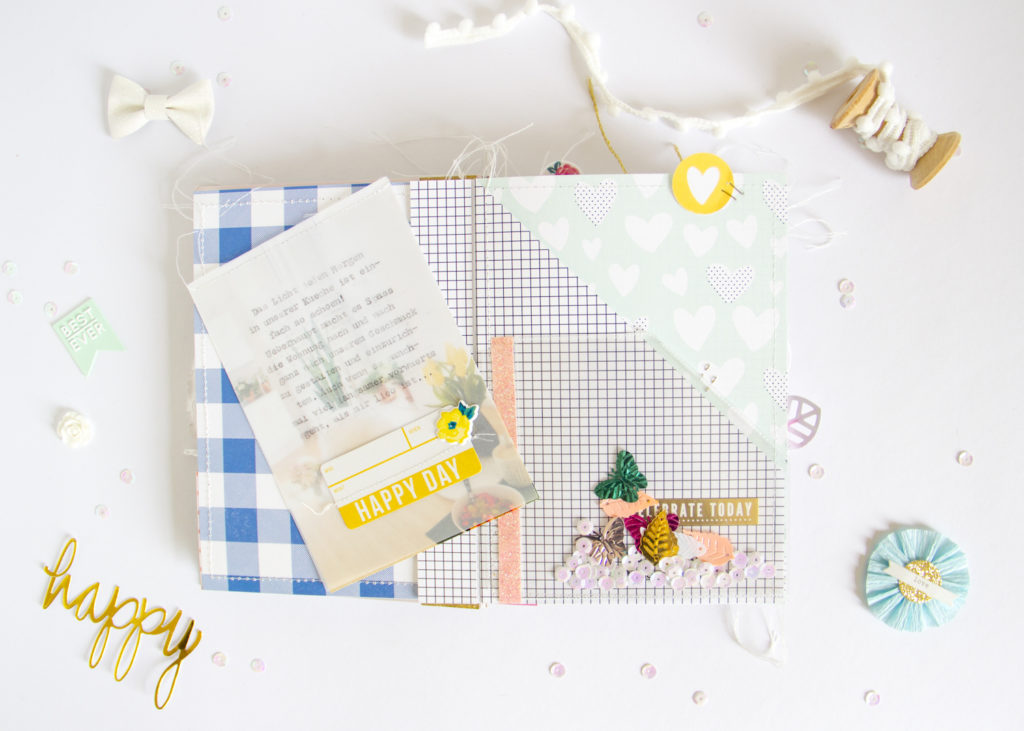 On some pages I also let the vellum flip stay on top of the pocket – that way you can read the journaling when flipping through the album.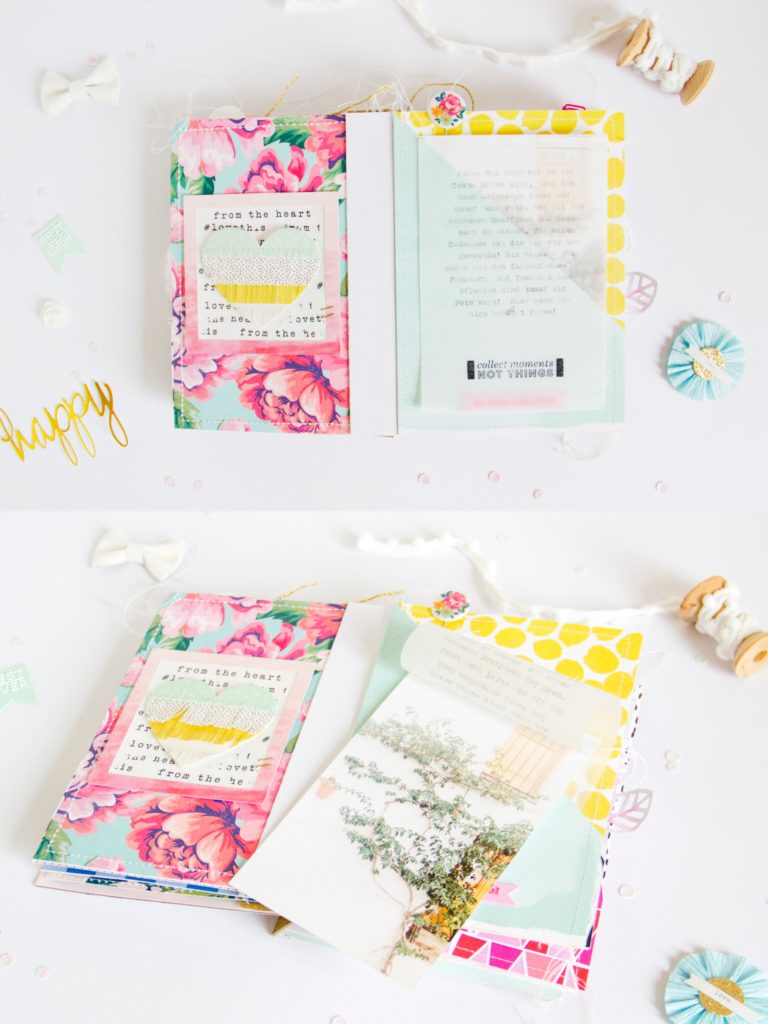 For this page (above) it was really difficult to choose what photo I wanted to use because it's about our Costa Brava trip and I have probably hundreds of photos. So I tried to find one that would work well with the colour scheme of this spread and would also look good with some vellum layered on top of it.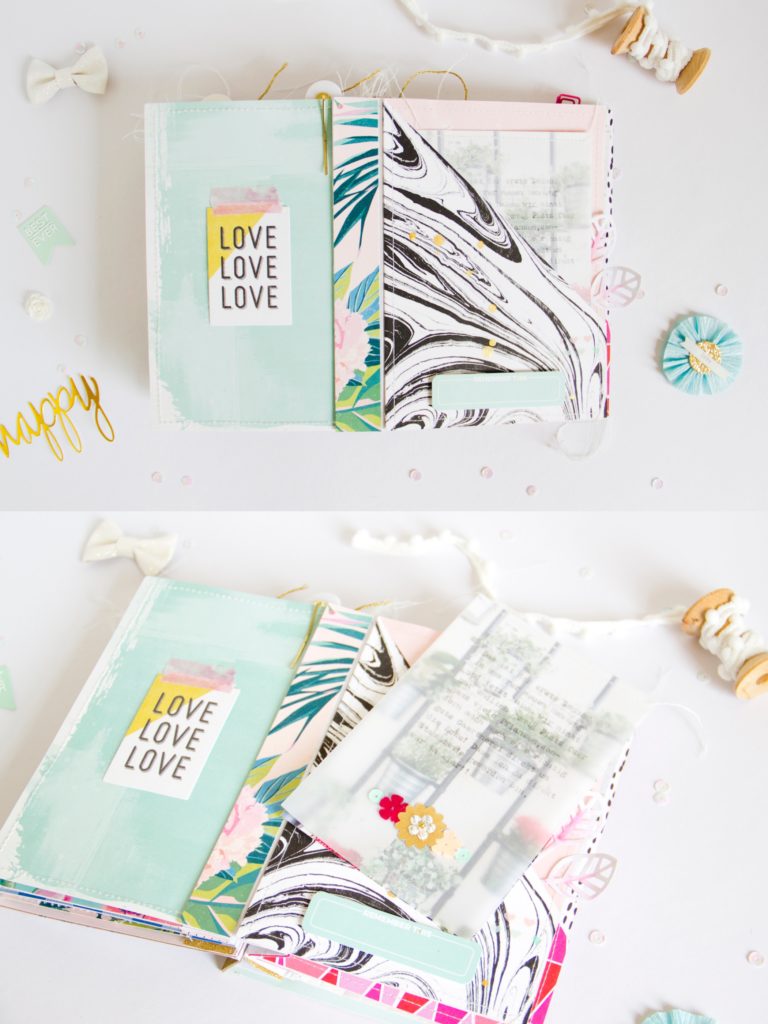 Actually, for all of the pages I was looking for very bright photos that had lots of white space – they are great to add some journaling to them.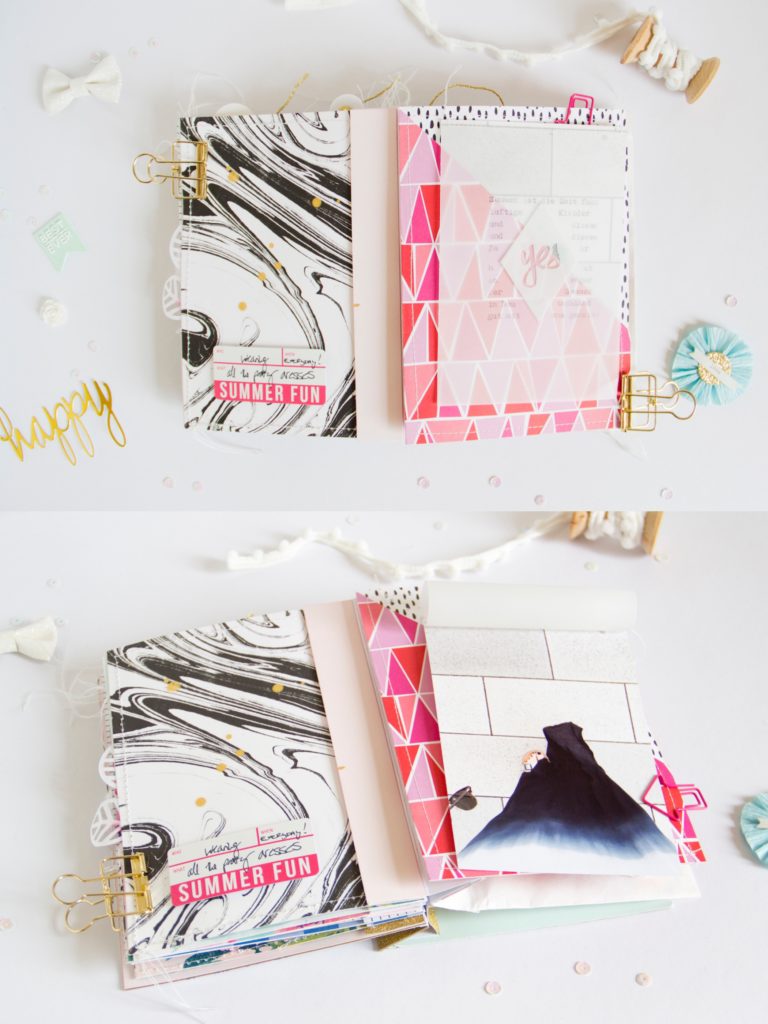 At the end of the album I also included this paper bag to hold some more bits and pieces, like tickets, ephemera and some more favourite photos. For the closing "mechanism" I just added to brads and some punched out paper circles and then wrapped some golden twine around them.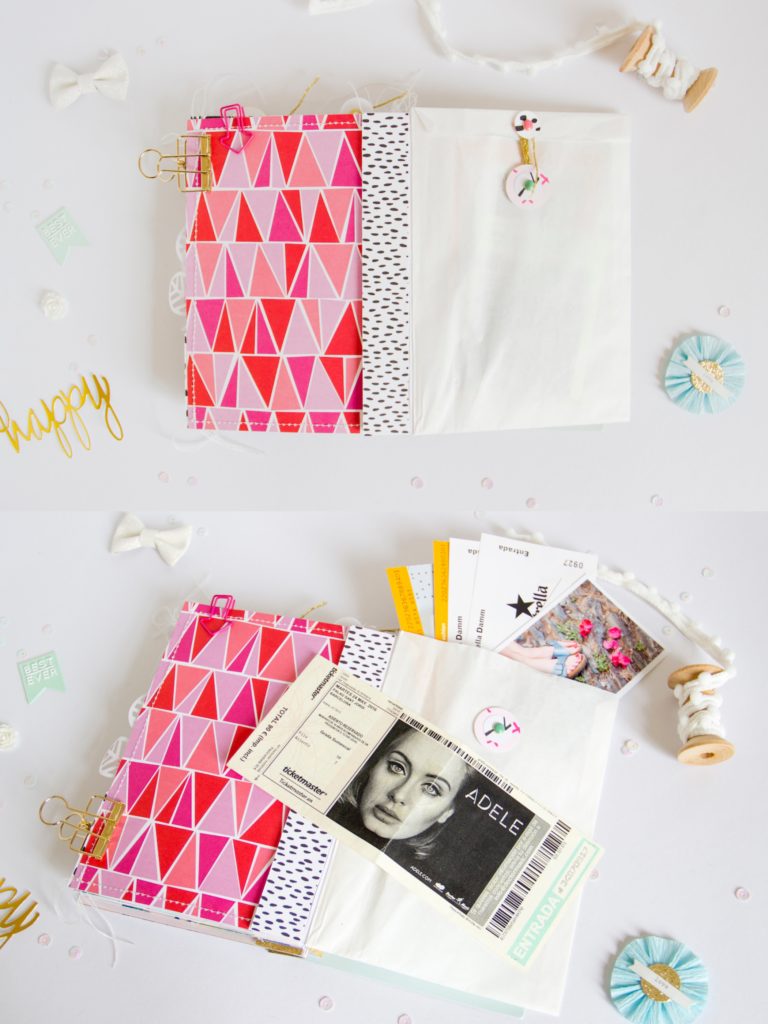 As I said, I'm really happy with the result and I'm also proud of myself for actually having finished a mini album 😀
What do you think? I hope you like it! What kind of mini album maker are you – do you also start a new one (or two, or three.. 😀 ) before having finished the first or do you always finish your mini albums right away? (If you are the second type – tell me your secret! 😉 )
And now,as promised, here are the two videos that I made of this mini album:
Aaaaand *drumroll* these are also the first videos on my new YouTube channel!! And to celebrate I thought a giveaway was in order 😉 To be entered to win, just leave a comment on of the two videos. For additional entries, visit my Instagram profile and look for this photo. There you'll find more information.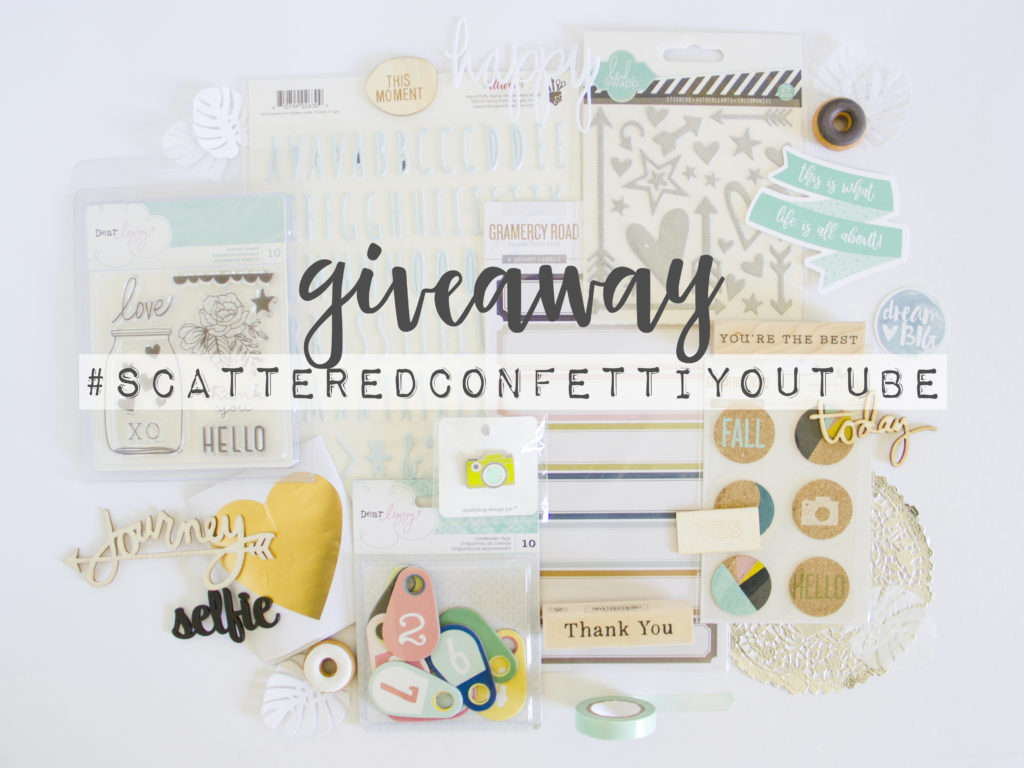 ________________________________________________________________________
Products used:
bits and pieces from my stash
* shopping links are affiliate links
Merken
Merken
Merken
Merken
Merken
Merken
Merken
Merken
Merken
Merken