I've already shown quite a few sneaks and also full projects that I've made with the Scrapbook Werkstatt March kits on Instagram but nevertheless I wanted to share them all here in one place so you can ooh and aah at all the pretty pieces that are included in the kit "Glitzerblume" (glitter flower – which fits the kit very well since it is full of florals and lots of gold & glitter!!). However, because I've made quite a lot of projects with this kit, I'm going to split them into to blog posts. Today I will share my three top favourite ones!
Although the weather around here is still really cold and feels more like winter than spring, working with the kit put me in the mood for spring! The papers and embellishments are all really fresh and have a light and airy feel to them. And with all of the florals in the kit it is impossible not to get spring fever 😉
This first layout definitely was the easiest and quickest one that I've made with the kit BUT it is also my most favourite of them all! It's the first time that I've tried a big (or rather huge) photo layout and I must say, I love it! You just don't have to add much more to the page to make it special. That's why I only added the title, some stamped phrases (made with stamps from a Gossamer Blue stamp set) enamel dots and the fringed paper strips.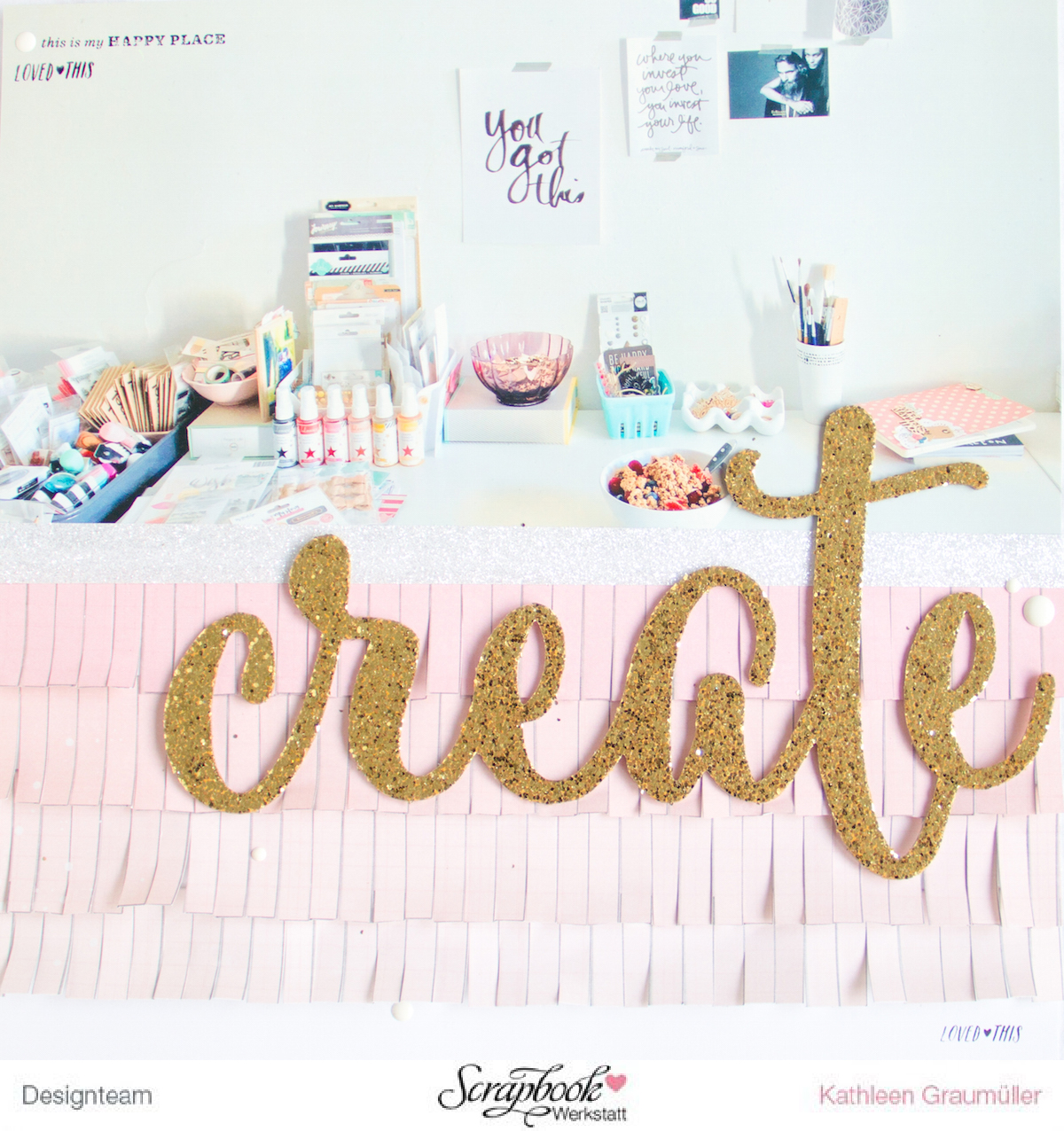 For the ombré fringe I used the Moments paper from Maggie Holmes' "Bloom" collection (Crate Paper). I started at the bottom of the paper and cut off four strips of paper. Then I cut into those strips from the bottom, but I didn't cut completely through them – only so much that I could pull up the small strips to create the fringe.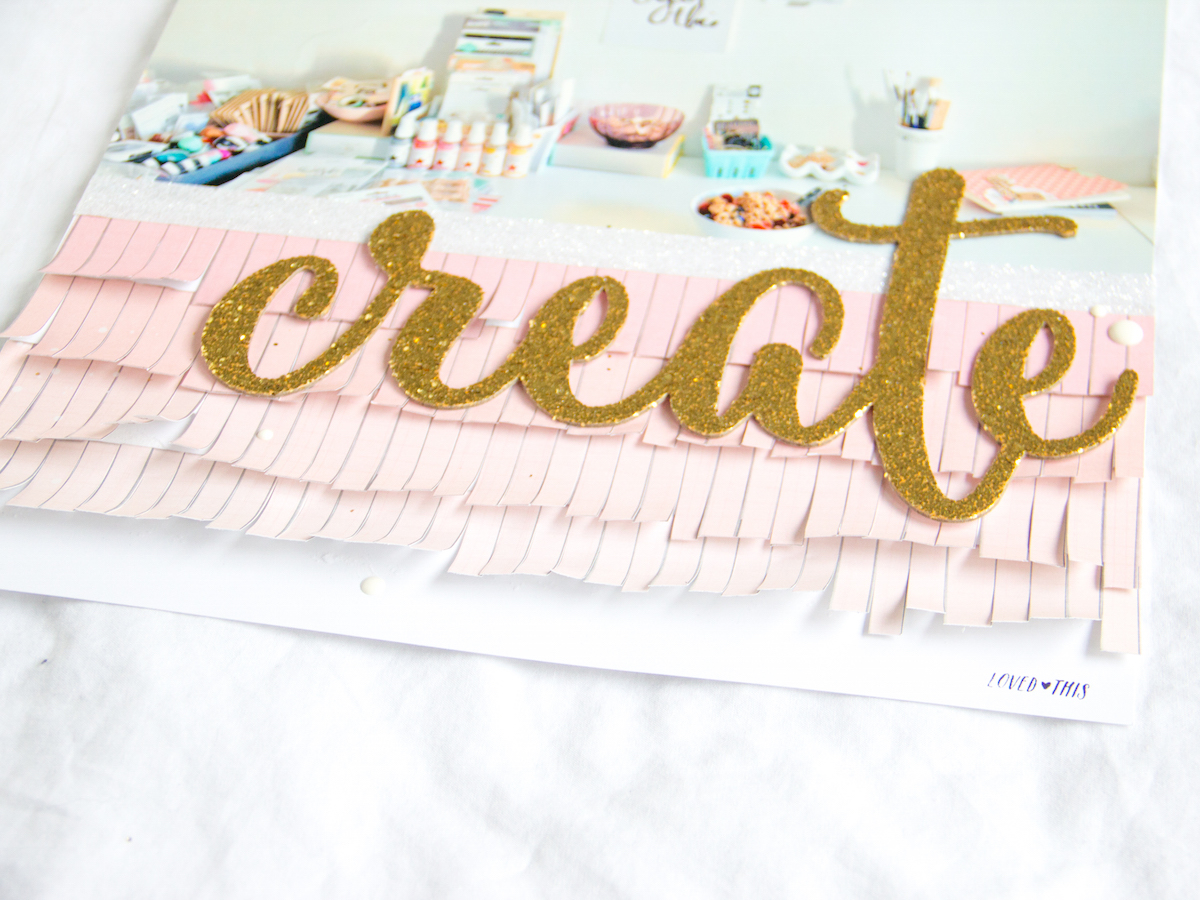 To finish it off the LO I just added this beautiful big "create" glitter die cut word from this Pebbles Inc. package. Yes, there are six different gorgeous glitter words in that one package and I have already used most of them 😀 Like on this next layout: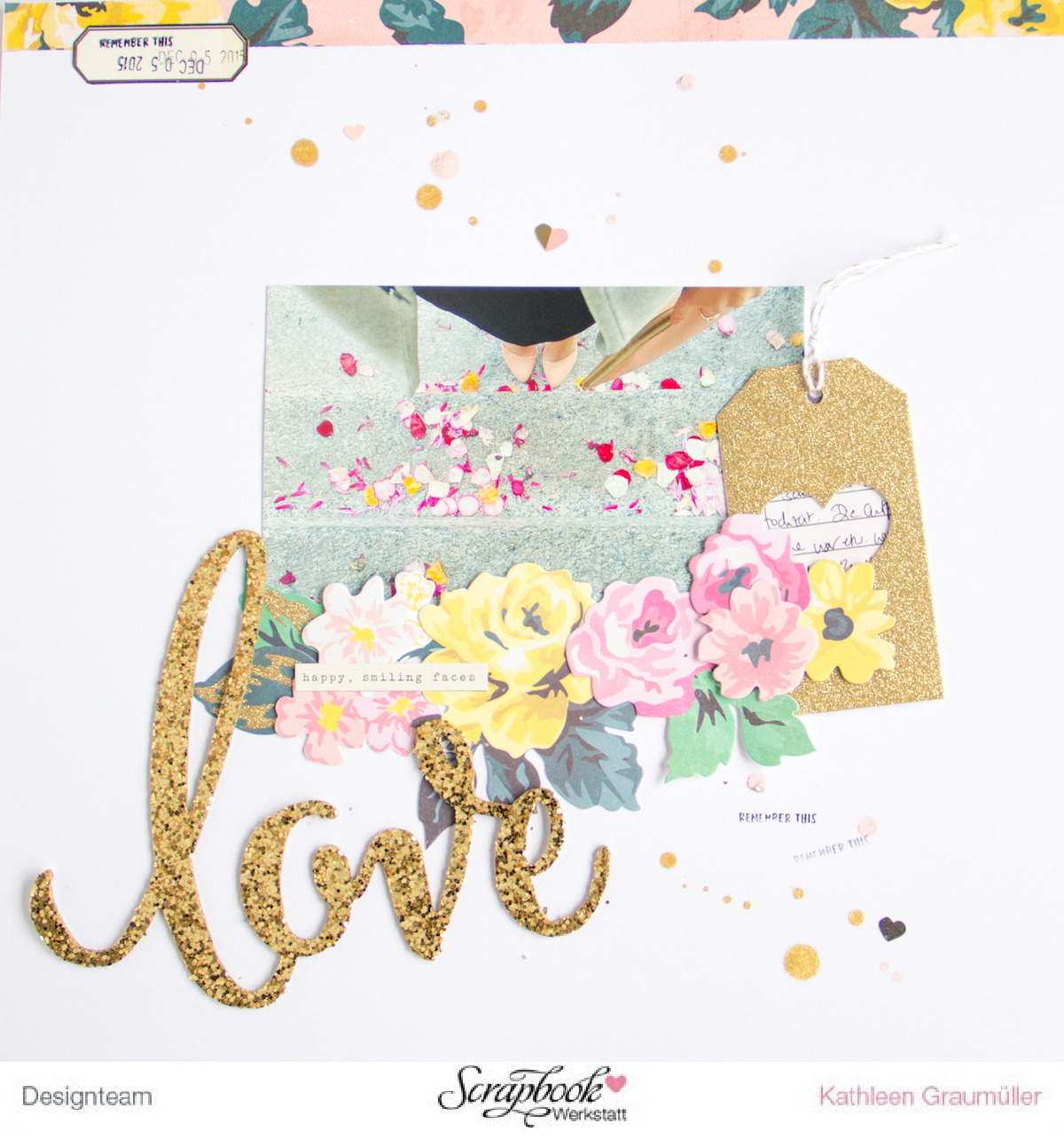 For this layout I used almost no patterned paper, except for the border at the top of the page. I wanted those beautiful flower die cuts from the Bloom ephemera package to be the center of the page so I only added the glitter word and that pretty gold glitter tag. Beneath the glitter tag I layered a second one where I could add some journaling.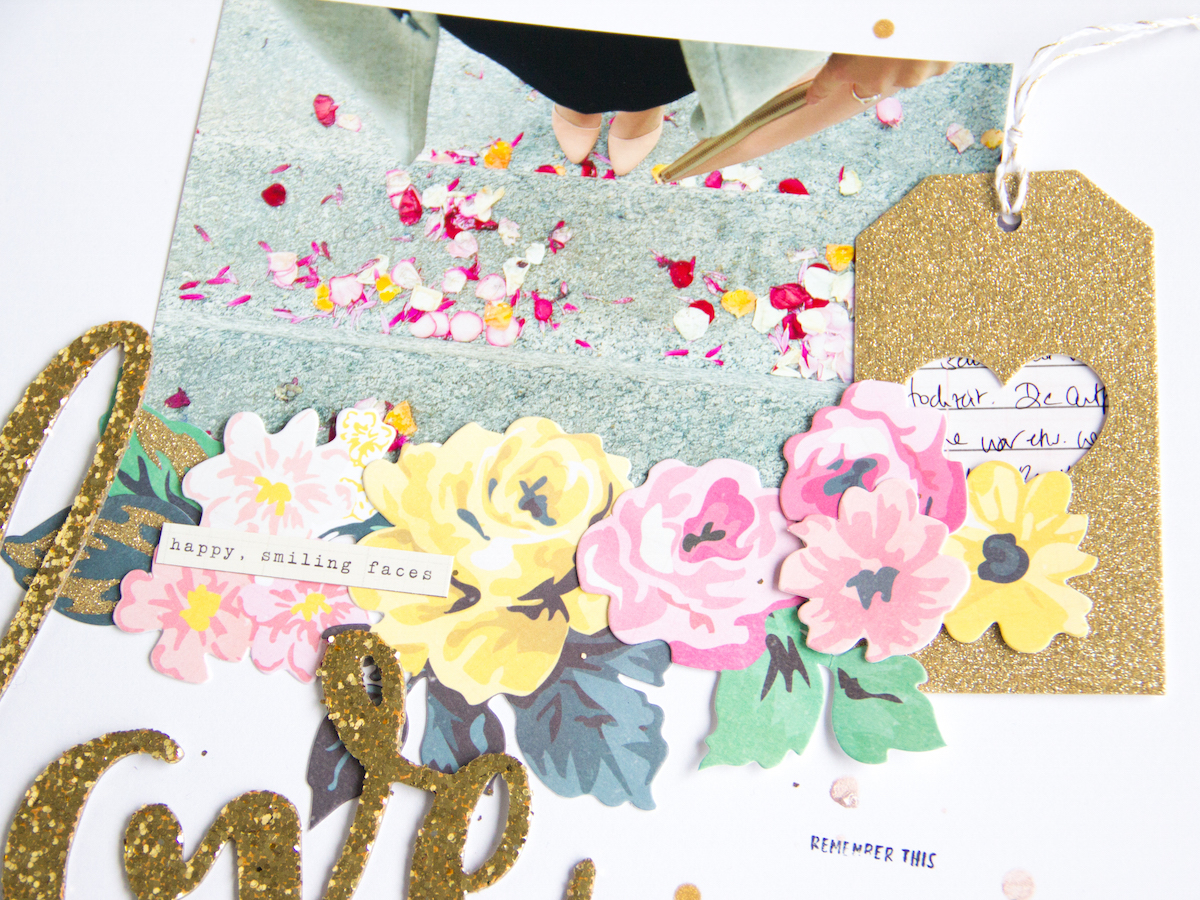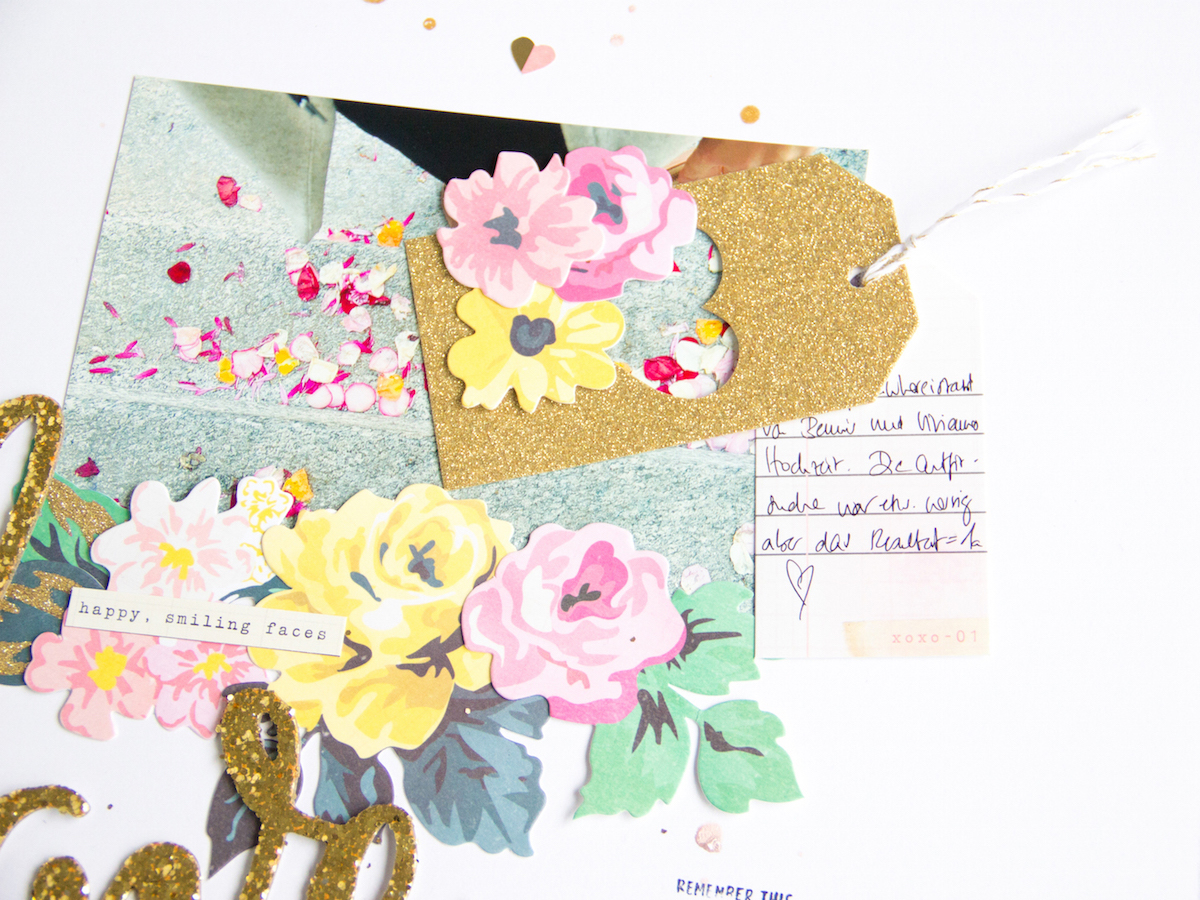 And last but not least the third layout in my top three favourite ones for the Scrapbook Werkstatt March kit. And this one features lots of elements from the first two layouts: a fringe border, lots of florals and some gold glitter, because you can never have enough of that! 🙂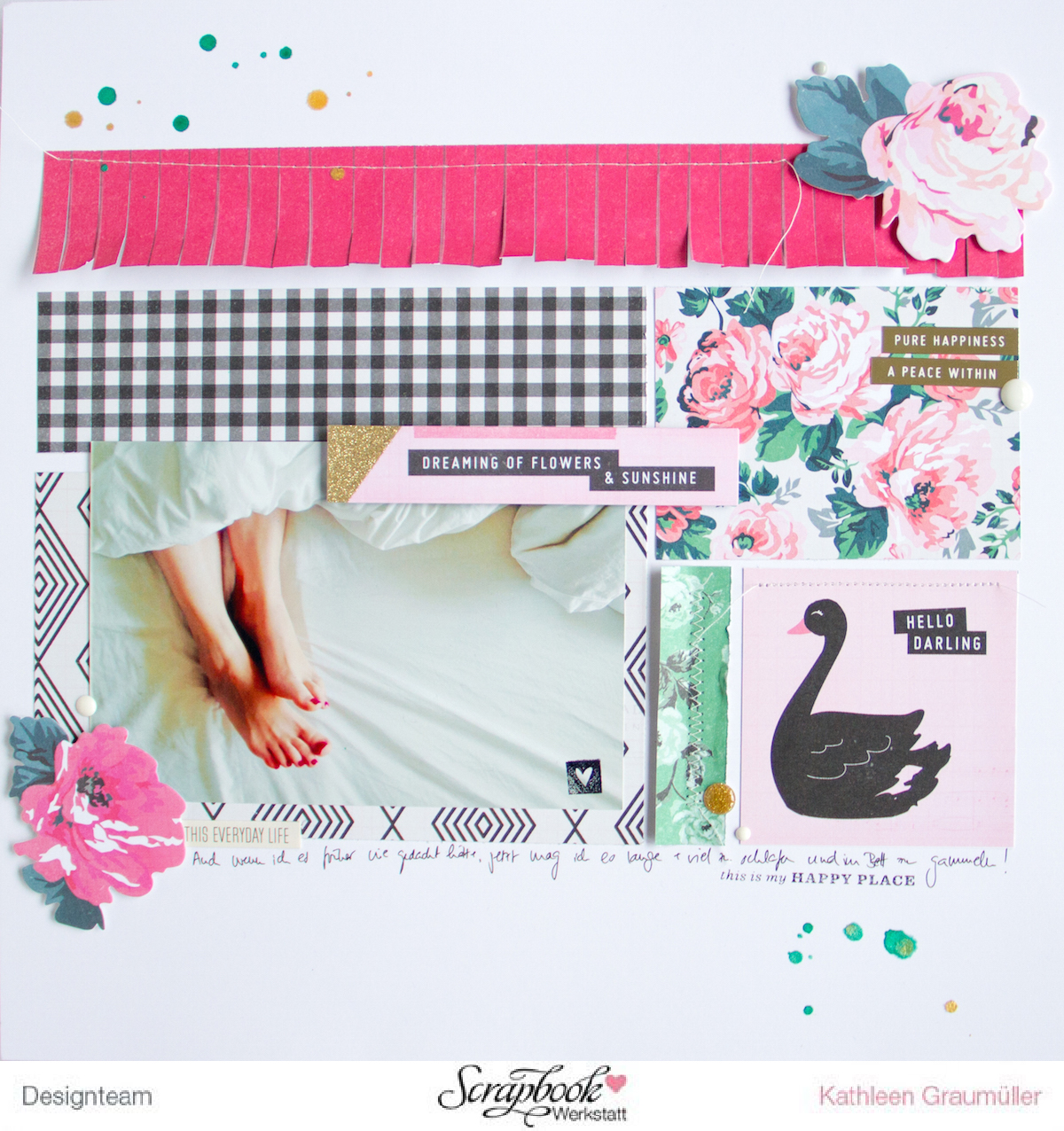 I must admit that the floral pattern on this page might be my favourite floral patterned paper ever!! Unfortunately (for me), it's not a whole sheet of paper but only a small card on this Fresh patterned paper from the Bloom collection. So, Crate Paper: could you make this pattern into a whole sheet, pretty please?? I will buy lots of it, I promise! 😀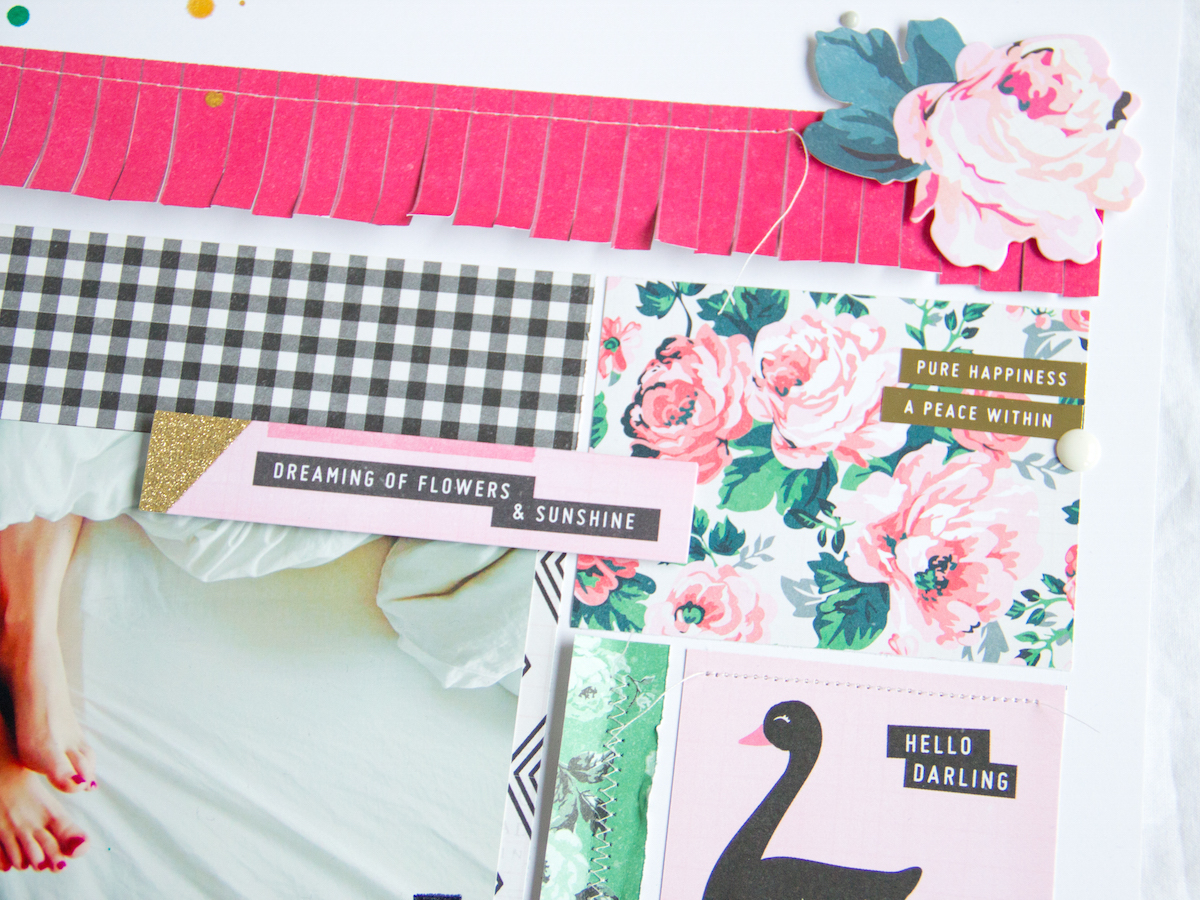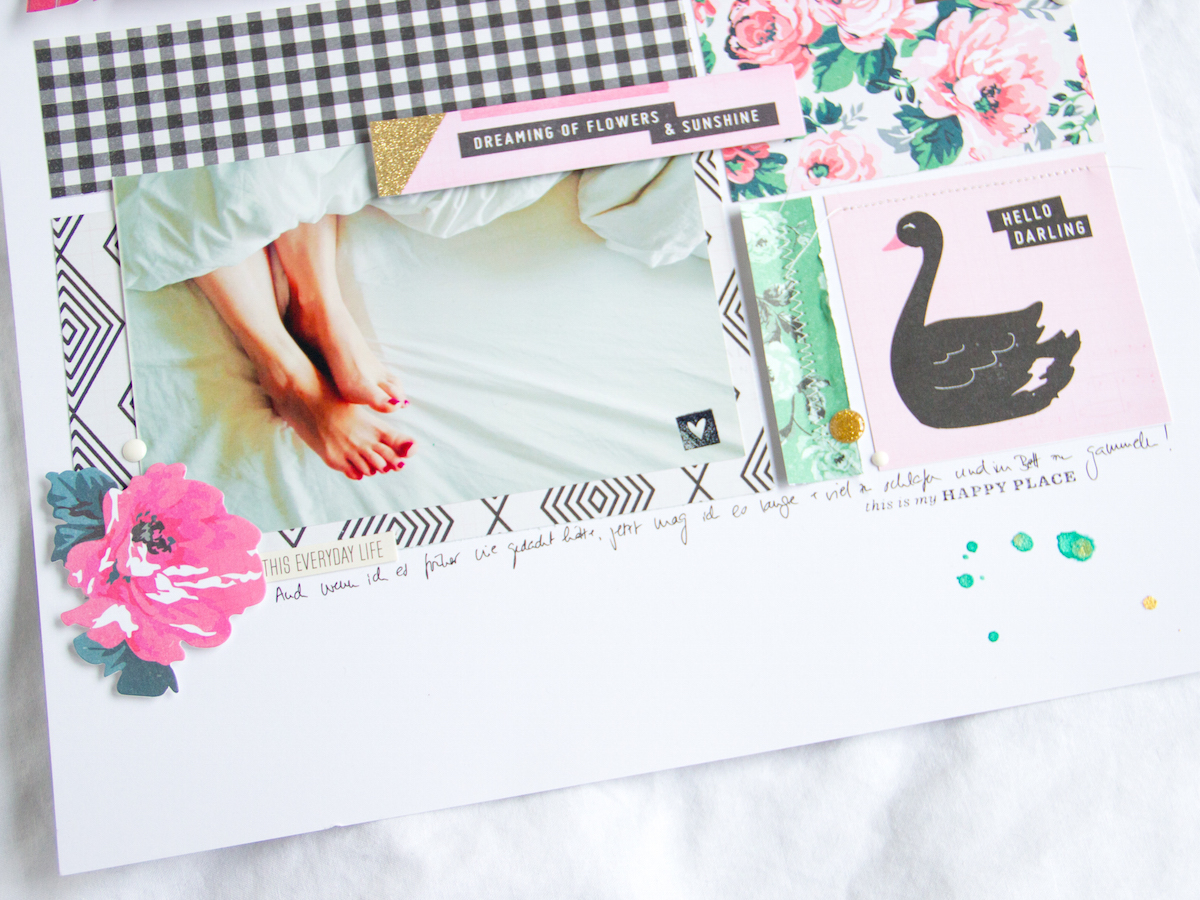 Alright, so that's it for the first batch of layouts made with the SBW March kit. I have to say that I am really happy about each one of them – they turned out exactly like I imagined, maybe even better!
I'm curious though: which of those three is your favourite layout, and why? 🙂
And, because I can't pass up a good floral pattern: which is/are your favourite floral patterned paper/s?
Have a great week y'all! I will share the rest of my projects with the SBW March kit later this week.